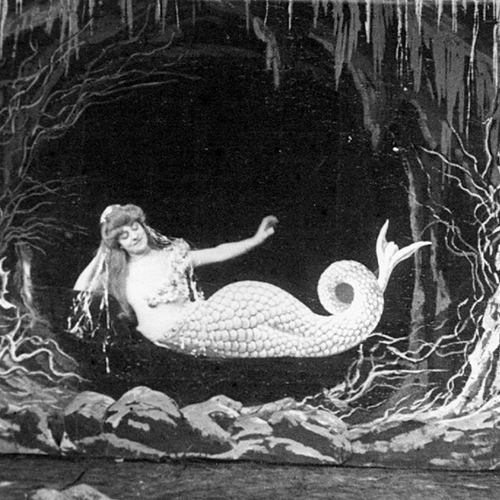 The Norman Studios Silent Film Museum and the Hotel Indigo® Jacksonville will screen a medley of silent film shorts by famed French filmmaker and illusionist Georges Méliès at the next Silent Sundays event on Sunday, July 16. Films include:
The Mermaid, 1905
The Voyage Across the Impossible, 1904
Good Glue Sticks, 1907
The Eclipse: Courtship of the Sun and Moon, 1907
A Trip to the Moon, 1902
Paris-born in 1861, Méliès showed signs that he'd grow up an entertainer early on, often being disciplined by teachers for covering his notebooks and textbooks with drawings. At age 10, he began building cardboard puppet theatres and in his teen years, crafted sophisticated marionettes. On the evening of December 27, 1895, Méliès attended a private demonstration of the Lumière brothers' cinematograph, given for owners of Parisian houses of spectacle. That event proved a turning point in the life and career of one of the world's most innovative and influential filmmakers.
In the earliest days of cinema, Méliès was a prolific innovator in the use of special effects, popularizing such techniques as substitution splices, multiple exposures, time-lapse photography, dissolves and hand-painted color. Two of his most famous films, A Trip to the Moon and The Impossible Voyage, both involving surreal journeys in the style of Jules Verne, are considered among the most important early science fiction and fantasy films.
Jacksonville University's Tony Steve and the Silver Synchro Sounds will provide live musical accompaniment. Tickets are $5 for this family-friendly series. Adult patrons 21 and older can enjoy the film with a glass Shhh! – the Silent Sundays signature cocktail created by the Hotel Indigo bar staff. Doors open at 3pm, program begins at 4pm.
Tickets can be purchased online or at the door (cash or credit).