C
…is for
The Crimson Stain Mystery
Directed by T. Hayes Hunter and written by Albert Payson Terhune, with a scenario by Otto E. Goebel, The Crimson Stain Mystery (1916) was an early horror serial film. After spending his life developing a machine that will rejuvenate humanity, Dr. Burton Montrose discovers a chemical formula that he believes will transform ordinary people into geniuses. Unfortunately, his formula quickly backfires and turns his subjects into hideous monsters, murderers, and thieves. Under the leadership of "Pierre La Rue" (better known as the "Crimson Stain" because of a distinctive red stain in one of his eyes), they band together and begin terrorizing New York City.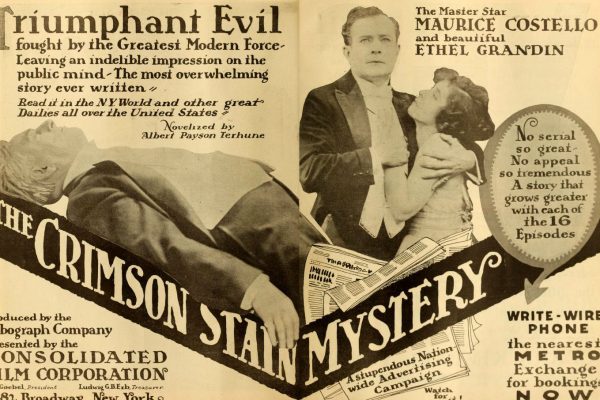 Over the serial's sixteen episodes, La Rue is doggedly pursued by detective Layton Parrish and newspaperman Harold Stanley, who seeks vengeance for the murder of his father, publisher and editor of the Examiner, one of a number of wealthy and powerful New Yorkers who have been killed by a being with seemingly supernatural powers. Assisted by his sweetheart Florence Montrose, the daughter of Dr. Montrose, and with the help of his friend Robert Clayton, Stanley persists in his search and soon attracts the attention of the killer, who wants him out of the way. After Florence believes that she recognizes the killer, she is kidnapped by a member of La Rue's gang, hypnotized, and put into a trance, which is broken only by La Rue's visit to the Montrose home. Other life-threatening events ensue, including the luring of Florence to a home in the Bronx, from which she is rescued by Stanley only moments before it explodes, and a series of subsequent kidnappings, hostage-takings, and explosions. Ultimately, however, Stanley discovers that the mysterious "Crimson Stain" is the doctor himself, who has become the subject of his own experiments.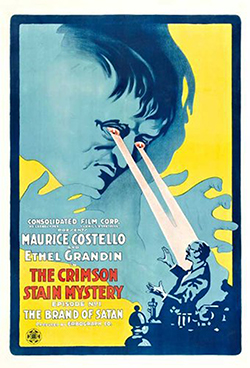 The serial was intended largely as a star vehicle for Maurice Costello, an actor (and later director) who began performing on stage at age eleven. After appearing in vaudeville and in stock companies, he gained fame as a stage actor and, by the early 1900s, had joined the Vitagraph Company, where he became a member of the first motion picture company ever formed. In the course of his association with Vitagraph, Costello directed photoplays, led a company troupe in Europe that produced melodramas, and appeared as a leading man in productions such as A Tale of Two Cities (1911) and The Man Who Couldn't Beat God (1915). Although he was one of the best-known leading men in early American cinema and a true matinee idol at the time he filmed The Crimson Stain Mystery, he did not make a successful transition to talkies and is most remembered today as the father-in-law of John Barrymore and great-grandfather of actress Drew Barrymore.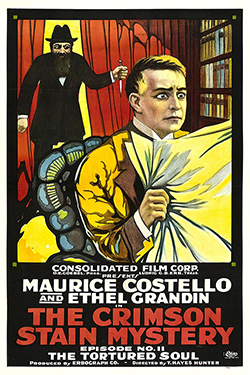 The serial also marked an important return to the screen for Costello's co-star Ethel Grandin, who had first found fame as a star in the landmark Traffic in Souls (1913), produced by Carl Laemmle's Independent Motion Picture Company. Touted as an actress much like Mary Pickford, whom she is said to have resembled, Grandin and her husband, former IMP cinematographer Arthur Smallwood, had tried to capitalize on her early success by founding Grandin Films, a label under the Smallwood Film Corporation. That label, however, quickly ran into financial trouble. The Crimson Stain Mystery was therefore an attempt to revive Grandin's career. And while it proved to be a "comeback" of sorts that led to some small subsequent roles, soon afterward, Grandin—by then in her late twenties—retired from the business altogether.
Despite the appearances of Costello and Grandin, The Crimson Stain Mystery was a box-office disappointment, especially in comparison to another horror-mystery serial, The Mysteries of Myra, released earlier that same year by the Wharton Brothers. Yet, like Myra and like silent feature films such as D. W. Griffith's The Avenging Conscience (1914), The Crimson Stain Mystery helped to introduce monsters and ghosts into cinema and to establish the conventions of the horror genre.
---
Survival Status: Prints or fragments of a few episodes exist in the Library and Archives Canada, Visual and Sound Archives Film Archive, and in the Library of Congress Film Archive.
Directors: T. Hayes Hunter
Release Date: August 21, 1916
Release Company: Consolidated Film Corporation, through Metro Pictures
Cast: Maurice Costello (Harold Stanley), Ethel Grandin (Florence Montrose), Thomas J. McGrane (Dr. Burton Montrose), Olga Olonova (Vanya Tosca), John A. Milton (Layton Parrish), N. J. Thompson (Jim Tanner), Eugene Strong (Robert Clayton), William Cavanaugh (Doctor's Assistant), Lorna Volare (Little Girl).
Episodes: (two reels each) 1. The Brand of Satan. 2. In the Demon's Spell. 3. The Broken Spell. 4. The Mysterious Disappearance. 5. The Figure in Black. 6. The Phantom Image. 7. The Devil's Symphony. 8. In the Shadow of Death. 9. The Haunting Specter. 10. The Infernal Fiend. 11. The Tortured Soul. 12. The Restless Spirit. 13. Despoiling Brutes. 14. The Bloodhound. 15. The Human Tiger. 16. The Unmasking.