F
…is for
The Fates and Flora Fourflush
The Fates and Flora Fourflush; or, The Ten Billion Dollar Vitagraph Mystery Serial, the first serial produced by the Vitagraph Company, was released on October 26, 1914. Written by Mark Swan and James Young, it was unusual in several ways. The first way was its length: it ran a mere three episodes, or chapters. The second was its form: a comic parody, it spoofed the detective and mystery stories that were so popular with moviegoers at the time.
The Thanhouser Company's The Million Dollar Mystery, a twenty-three part serial released the previous year, had told the story of a clandestine Russian society, "The Black Hundred." After Florence Hargreave's father terminates his connection to that organization, Countess Olga Petroff (Marguerite Snow) and the other members of the group vow revenge and determine to secure his million-dollar fortune for themselves. After the elder Hargreave outwits the group and escapes in a balloon, the gangsters come after Florence (played by Florence "Fearless Flo" La Badie) to compel her to reveal the money's secret hiding place. Despite numerous close encounters—on an airship, in the path of an oncoming train, in a seaplane, in quicksand—she eventually frustrates their evil and greedy plan.
Thanhouser followed up that serial with a sequel, the twenty-part
Zudora,
renamed
The Twenty Million Dollar Mystery
. In the rather confused and confusing production, eighteen-year-old Zudora must contend with the efforts of her guardian, Hassam Ali, a disciple of Hindu mysticism and a former fakir with a small caravan circus, to acquire her fortune. Such huge financial dealings had become a staple of many films. "Millions," in fact, figured prominently in other serial productions as well, including the later
A Fight for Millions
(1918) and
The $1,000,000 Reward
(1920).
The Fates and Flora Fourflush was an obvious parody of this trend and especially of Thanhouser's serials. Clara Kimball Young played Flora, the female lead; Charles Brown was her devoted suitor Frank Goodheart, while L. Rogers Lytton appeared as their arch-nemesis Simon Blackheart. As film critic Kalton Lahue observed, "the satire produced a thrill every minute and a laugh every thrill."
The production combined virtually every imaginable serial plot device. In the first episode, after her enormous four-horse-power "Combustible" runs over poor but honest street-cleaner Frank, the orphaned heiress Flora takes him to her home to recover from his injuries. There, Frank clashes with Sir Simon, a suitor whose marriage proposal Flora has rejected. Although Frank and Flora share an obvious affection, he refuses to wed until he has made his own fortune (a twist on The Perils of Pauline plot, in which Pauline refuses to marry Harry Marvin until she has had a chance to have her own year of adventure). After Simon tampers with the plane Flora is planning to fly across the Atlantic, Frank jumps into a hot air balloon and rescues her in a daring mid-air rescue. But a furious Simon shoots his rifle into the balloon and downs it, sending Flora and Frank to seemingly certain death.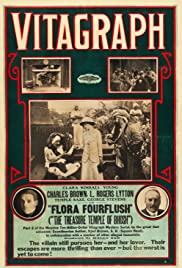 The second episode reveals that the pair has survived. Their balloon has crashed, fortuitously, through the glass dome of the conservatory of Flora's home—just in time for tea! Recovered from the balloon fiasco, Flora and Frank travel to India to visit the Rajah of Churneypore, but en route they are beset by pirates, the chief of them being none other than Simon. On his order, Frank is tied to a cannon and thrown overboard, but he manages to walk along the ocean bottom to safety. After he finds a boat and rows it out to sea to combat the pirates, they throw a bomb with a burning fuse at him, which he picks up and throws back into their boat, killing all of them but Simon. Meanwhile, Flora arrives in India, where the Rajah takes her to his treasure house. But just as she steps inside, Simon appears and causes the roof of the house to collapse on Flora. When Frank comes to her rescue, Simon plots to cast the pair into a pit of alligators.
In the third and final episode, after escaping the alligators, Flora and Frank are set upon once again by the villain, who ties Frank to a railroad track. Hopping into a race car, Flora comes to his rescue. But before she can save him, Simon drives a locomotive down the tracks and runs over the hapless Frank. Miraculously, he survives—although Simon finds him and, this time, ties him to several cases of dynamite in a small cabin. Fearless Flora, joined by the Rajah and his High Priest, rescues him and installs Simon in his place, just in time to see the villain blown to bits. Happily reunited, Flora and Frank enjoy another bit of good luck, as the Rajah offers them a precious ruby as a wedding gift.
Clearly not meant to be a serious or dramatic production, The Fates and Flora Fourflush provided an entertaining send-up of the popular serial genre of its day. Vitagraph went on to produce numerous other serials, including The Goddess (1915), The Scarlet Runner (1916), The Fighting Trail (1917), and The Woman in the Web (1918).
---
Survival Status: presumed lost
Directors: Wally Van
Release Date: October 26, 1914
Release Company: Vitagraph Company
Cast: Clara Kimball Young (Flora Fourflush), Charles Brown (Frank Goodheart), L. Rogers Lytton (Sir Simon Blackheart), Templar Saxe (The Rajah), George Stevens (High Priest).
Episodes: (all one reel) 1. Treachery in the Clouds. 2. The Treasure Temple of Bhosh. 3. A Race For Life.