K
…is for
King of the Circus
B
ased on a story by Anthony Coldeway,
King of the Circus
(1920) was an eighteen-part action serial produced and released by Universal. Directed by Australian director, actor, writer, and producer J. P. McGowan, an experienced film industry professional and former husband of Helen Holmes (whom he had directed in the landmark serial
The Hazards of Helen
and with whom he founded Signal Films), it was released on November 22, 1920, and set against the colorful background of the circus. After Eddie King discovers that James Gray, the man for whom he works, is the same villain who had earlier cheated King's father out of his circus, he decides to take action against him.
Ads highlighted the many thrills of the "Gorgeous 18-Ring Serial Sensation," which included a fight "with a maneater," a drop from a blimp high in the air (and a safe landing in a speeding motorboat), and an escape from "the clutches of a maddened elephant." Not much else, however, is known about the film, which is considered lost. It starred the immensely popular performer Eddie Polo, who had earlier appeared in a similar serial, The Adventures of Peg o' the Ring ([1915], though reportedly Polo's role was cut after a disagreement with director Francis Ford). Polo also starred in The Lure of the Circus (1918), which had shot some of its scenes in actual circuses. For all of those roles, Polo apparently drew on his own experience. Part of a circus family, the Austrian-born actor had traveled across Europe performing with his parents and brothers in a family act. But business being poor, the boy was apprenticed to Henry Wolf, a European circus star. As Kalton Lahue noted, it was during this apprenticeship that he learned the acts required of a circus performer—contortion, wire-walking, trap work, horseback stunts, tumbling, and aerial acrobatics. After five years, Eddie—only eleven years old at the time—ran away from Wolf and worked in various shows on the Continent before stowing away in the hold of a cattle ship headed to the United States. After his arrival, he joined circus men Walter L. Mains and then Adam Forepaugh and brothers Lewis and Peter Sells; and later he spent seventeen years with the Barnum & Bailey circus before tiring of the big top and entering the movies in 1914.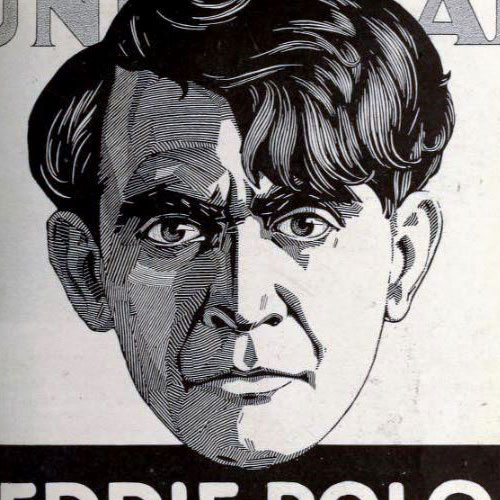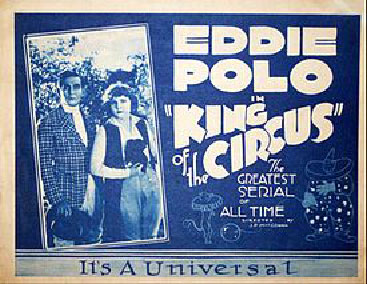 Polo's acrobatic skills made him an ideal candidate for silent serials, which often required actors to perform their own stunts. Short, dark, and exotic-looking, he quickly became a favorite of moviegoers. At the same time, though, he gained a far less savory reputation for his behavior on set. By most accounts, he was difficult to work with: quick to assert his self-importance, cause conflict with his co-stars on the set, and generally overinflate his own worth. Yet his appeal to audiences assured him continued employment by the studios; and he remained a top star, and a wealthy one—at least up to the point when he walked away from Hollywood, in pique, to form his own company. When that company dissolved soon afterward, he moved to Europe. Unfortunately for him, when he returned, it was too late for a comeback. The silent era had given way to sound, and he was able to secure only minor parts in serials and Westerns.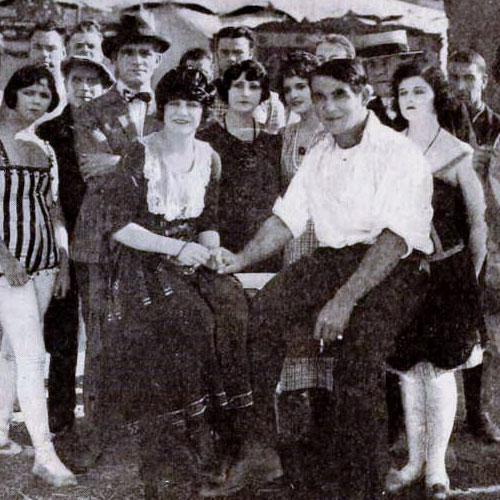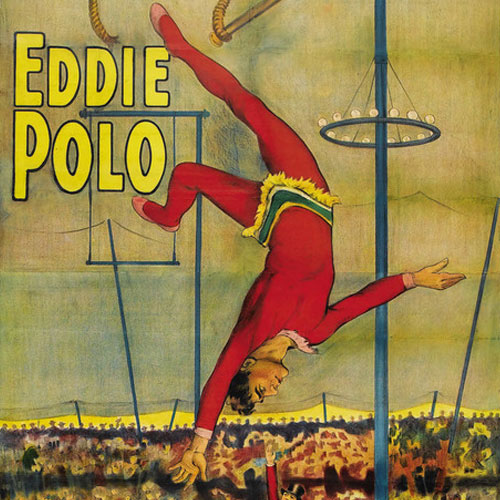 Circus stories had long fascinated early film audiences, beginning with shorts such as Arrival of the Circus Train (1903) and Call of the Circus (1910) and films such as Nell of the Circus (1914) and Polly of the Circus (1917). They continued to thrill moviegoers well into the 1930s (Polly of the Circus [1932, sound version], The Chimp [1932], Charlie Chan at the Circus [1936], Under the Big Top [1938]) and beyond. And they still attract the interest of audiences more than a century later. But few performers emerged as true early stars of the genre the way that Eddie Polo did; and his circus films, like his Westerns, are still remembered today.
---
Survival Status: Presumed lost.
Director: Universal Film Manufacturing Company
Release Date: November 22, 1922
Release Company: William N. Selig Productions, distributed (on a State Right basis) by Export-Import Film Company.
Cast: Eddie Polo (Eddie King), Corrine Porter (Helen Howard), Kittoria Beveridge (Mary Warren), Harry Madison (James Gray), Charles Fortune (John Winters), Tom London (Leonard Clapham), J. P. McGowan, J. J. Bryson, Dorothy Hagan, Viola Tasma, Jay Marchant, Frank Shaw, Bruce Randall, Jack Newton
Episodes: (two reels each) 1. Blood Money. 2. The Mushroom Bullet. 3. Stolen Evidence. 4. Facing Death. 5. The Black Wallet. 6. The Lion's Claws. 7. Over the City. 8. Treachery. 9. Dynamite. 10. The Mystic Power (aka The Mystic's Power). 11. Man and Beast. 12. Deep Waters. 13. A Fight For Life. 14. Out of the Clouds. 15. The Woman in Black. 16. The Cradle of Death. 17. The Final Reckoning. 18. The Lost Heritage.