REOL PRODUCTIONS
E
merging after World War I was another film company that quickly distinguished itself in several significant ways. Reol Productions of New York City, headed by Robert Levy, the white former manager of the Quality Amusement Company that sponsored the Lafayette Players Dramatic Stock Company, aggressively promoted its black performers to black audiences—Edna Morton, one of the first black movie stars, was billed as "the colored Mary Pickford"—and established large circuits of theaters throughout many sections of the South and in a number of northern cities where the company distributed its films. But perhaps one of Reol's most important achievement was its recognition of the culture of the market that it served and the production of films that were adapted from classic black literature. According to Pearl Bowser and Louise Spence, Reol "promoted its films to theaters by emphasizing that they were based on the stories and plays of Negro authors"; the company even announced to the press that it was seeking talented Negro writers on college campuses to provide material for its films.
[1]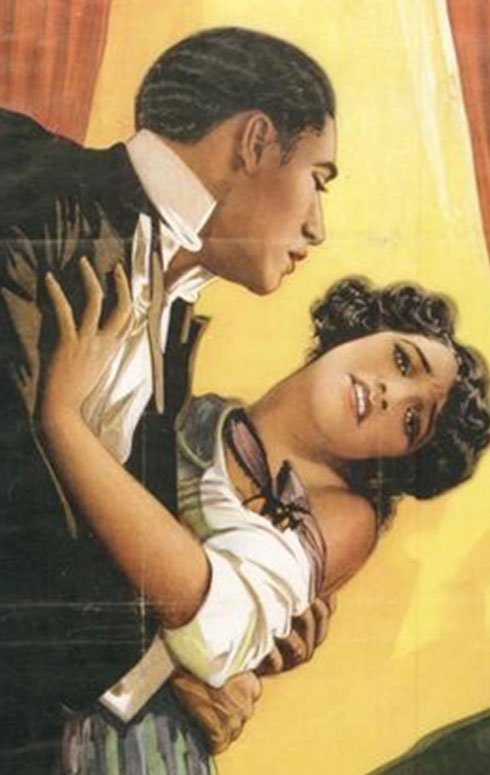 Reol's first film was The Sport of the Gods (1921), which was based on a novel—and a screenplay—by Paul Laurence Dunbar. Berry (Leon Williams), a faithful, loyal, and innocent black man, is thrown in jail after being convicted of theft against his employer, Maurice Oakley (Lindsay J. Hall). Disgraced, humiliated, and unable to find work, Hamilton's family moves from their home in Virginia to New York, where son Joe (G. Edward Brown) takes up with unsavory companions; daughter Kitty (Elizabeth Boyer) is placed in jeopardy as an underworld singer; and mother Fannie (Lucille Brown), believing that a penitentiary sentence is the same as a divorce, is persuaded to marry a man who wants only her money. After being cleared of the crime and released from jail by the ingenuity of his daughter's lover, who reveals that Maurice's brother Frank was actually the thief, Hamilton travels to New York, where he rescues his family members, who have fallen "into the hands of vice traffickers" and found themselves "on their way to the depth." He takes them away from the urban depravity and returns them to Virginia, "where they take up the life that leads to true happiness."[2]
The film's ending is thus more upbeat than the novel's, in which Berry and Fannie—having nowhere else to go—return to their cottage on the Oakley property. "It was not a happy life," Dunbar writes in the novel, "but it was all that was left to them, and they took it up without complaint, for they knew they were powerless against some Will infinitely stronger than their own." As the reviewer for the California Eagle (July 30, 1921) noted, "the thrilling movie taken from Paul Laurence Dunbar's beautiful Folk Poetry . . . depicts the highest type of Negro life [in the opening scenes], and very cleverly points out the fine points of the relationship between the two Races from a Southern viewpoint."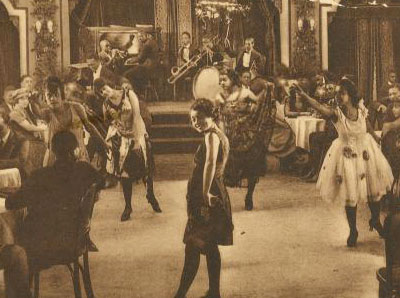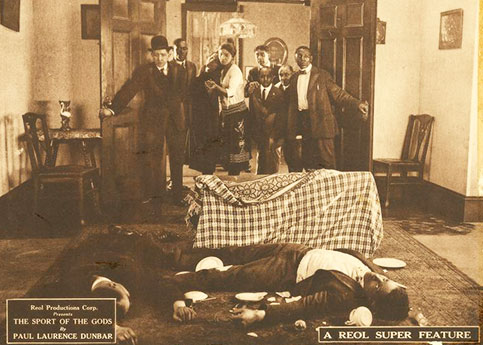 Another early Reol film was The Call of His People (1922), which was advertised as an adaptation of "The Man Who Would Be White," the "famous story" by black writer Aubrey Bowser about a black who is light enough to pass for white. Passing, or racial duplicity, was a popular theme among black writers and filmmakers, who employed it as a way to explore the meaning of race pride and sometimes, more subversively, to refute white misconceptions about black characteristics and capabilities as well as white attempts to create racially pure cultural spaces.[3] According to Donald Bogle, like other passing films, The Call of His People "seemed to be the wish-fulfillment yearnings" of its producers, and it "revealed the preoccupation of black America at the time: how to come as close as possible to the great White American Norm."[4] The film ran six reels and included in its cast Lawrence Chenault, the popular actor who also starred in several of Oscar Micheaux's films, along with Edna Morton, George Brown, Mae Kemp, James Stevens, Mercedes Gilbert, and Percy Verwayen.
In The Call of His People, Nelson Holmes, a black man who is posing as white, advances from office boy to General Manager of the Brazilian-American Coffee Syndicate. But his advancement stirs up jealousies within the Syndicate. At the same time, his racial duplicity creates additional complications, which are ultimately resolved when Holmes confesses the secret of his identity. Assured by his boss that it is the man and not his color that counts, Holmes gains a new appreciation of race and acquires a true sense of race pride. As the Chicago Defender (August 6, 1921) observed, The Call of His People was "without a doubt the finest picture ever made with an all-Colored cast, the story being a gripping one, the directing being perfect and the photography the best that could possibly be made. . . . [T]he resultant production places the Reol Corporation in a class far in advance of any producing companies making pictures in which our people are featured."[5]
Although Reol Productions occasionally made comedies such as the two-reeler The Jazz Hounds, the company specialized in dramatic features such as The Burden of Race (1921), a film about the risks of interracial romance, and Secret Sorrow (1921), about the two Morgan brothers who take very different paths in life. The latter was based on a work by "the celebrated Race author, J. C. Brown."[6] In the film version, Arthur Morgan, having been given up for adoption by his widowed and impoverished mother Anne, grows up as the son of a prominent black doctor, graduates law school, and becomes Assistant District Attorney in New York; Joe Morgan, on the other hand, drifts into a world of crime as a henchman for the corrupt politician Sam Dugan.
After Joe is accused of a murder that he did not commit, Arthur—unaware of his brother's identity—prosecutes him; but Grace Dugan, Sam's daughter, uncovers the real murderer. Reunited with his mother and his now-reformed brother, Arthur marries Grace; and they all become part of a happy family. Environment, the film suggests, dictates racial success: Arthur distinguishes himself as a young man because he had enjoyed many advantages as a child; but given the opportunity, even Joe can better himself.
In addition to the films it adapted from works by Dunbar, Bowser, and Brown, Reol planned to bring to the screen Charles W. Chesnutt's The Marrow of Tradition, although there is no record that the film was ever completed or released.[7] Before going out of business in 1924, however, Reol produced at least ten feature films that were notable both for their high quality and for the lack of stereotyping of the black characters. Yet, despite Reol's success in black theaters, Levy was disappointed that he did not get more support and encouragement from the black community—a sentiment shared by many black filmmakers. An article in the Baltimore Afro-American (May 2, 1924) quoted Levy as saying: "Negro amusement buyers are fickle and possessed of a peculiar psychic complex, and they prefer to patronize the galleries of white theatres than theirs." Levy's sentiments seemed only to confirm William Foster's earlier fears that whites would inevitably "step in and grab off another rich commercial plum from what should be one of our own particular trees of desirable profit."[8]
---
1.
Pearl Bowser and Louise Spence, "Identity and Betrayal: The Symbol of the Unconquered and Oscar Micheaux's 'Biographical Legend,'" in Daniel Bernardi, ed., The Birth of Whiteness: Race and Emergence of U.S. Cinema (New Brunswick, NJ: Rutgers University Press, 1996), 102.
2.
Henry T. Sampson, Blacks in Black and White: A Sourcebook on Black Films. 2nd Ed. (Metuchen, NJ: Scarecrow Press, 1995), 339.
3.
Jane Gaines, Fire and Desire: Mixed-Race Movies in the Silent Era (Chicago: University of Chicago Press, 2001), 158.
4.
Donald Bogle, Toms, Coons, Mulattoes, Mammies & Bucks: An Interpretive History of Blacks in American Films. 3rd Ed. (New York: Continuum, 1994), 105.
5.
Charlene Regester, "The African-American Press and Race Movies, 1909-1929," in Pearl Bowser, Jane Gaines, and Charles Musser, eds., Oscar Micheaux and His Circle (Bloomington: Indiana University Press, 2016), 38, 40.
6.
Bowser and Spence, "Identity and Betrayal: The Symbol of the Unconquered and Oscar Micheaux's 'Biographical Legend,'" 102.
7.
Thomas Cripps, Black Film as Genre (Bloomington: Indiana University Press, 1978), 29.
8.
Sampson, Blacks in Black and White: A Sourcebook on Black Films, 215, 174-175.