O
…is for
The Oregon Trail
U
niversal, which had earned acclaim for its historical serials, released three in the year 1923 alone.
Around the World in 18 Days,
based on Jules Verne's novel, was of special interest because it updated the story by introducing the character of Phineas Fogg III (grandson of Verne's original world-traveler Phineas) and incorporating the latest modern inventions, including planes, express trains, speed boats, and submarines.
In the Days of Daniel Boone
reimagined Boone fighting both Tories and Indians as he tried to establish a colony on the frontier prior to the Revolutionary War; and it included spectacular scenes of campaigns and defeats during the French and Indian War.
The longest of Universal's historical serials that year was the eighteen-part The Oregon Trail (released on March 12). Directed by Ed Laemmle and based on a screenplay by Robert A. Dillon, Anthony Coldeway, Douglas Bronston, and Jefferson Moffitt, it was built around Dr. Marcus Whitman's effort to bring the Word of God to the Northwest Indians. An American physician and Congregationalist missionary, Whitman led an overland westward party by wagon from New York to Oregon in 1836, a journey that helped to open the Pacific Northwest to settlement. In what is now Washington state, he and his party established mission schools and helped the Native Americans build houses and mills. Whitman's wife Narcissa Prentiss, also a registered missionary, and Eliza Spaulding, wife of Henry H. Spaulding (a married couple who accompanied the Whitmans), became the first white women to cross the Continental Divide. A few years later, in the winter of 1843, after traveling on horseback to Washington, D.C., to inform federal officials about conditions in Oregon, Whitman returned to the West and, with a caravan of immigrants in what was called the "great migration," was part of the first wagons to cross the mountains to the Columbia River.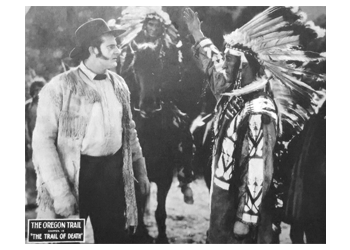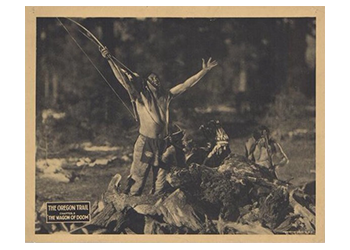 As Kalton Lahue observed, Universal's The Oregon Trail was "filled with patriotic verse"; and it recreated numerous memorable historical scenes, including Washington and Jefferson planning the Louisiana Purchase, the closing of the deal with Napoleon, the Lewis and Clark expedition into the Far West, and Eli Whitney inventing the cotton gin.

Filmed on location at Big Bear Valley, a five-and-a-half hour drive from Universal City, the "location jaunt," as Ed Hulse noted, was somewhat difficult and dispiriting. The company of nearly fifty men and three young women took up residence in a log cabin compound known as "Stilwell's Camp," and although the mountains provided a perfect setting, the cold temperatures and high altitudes took an immediate toll on both the actors and the animals. So a full-time doctor stayed on hand to treat cast and crew. Moreover, since the days were short and the sunlight limited, filming was forced to begin at the crack of dawn. But, despite the obvious discomforts, the location shooting afforded a sense of authenticity.
Starring in the serial was popular silent film star Art Acord, playing a trapper who fights a vicious syndicate, and his real-life wife Louise Lorraine. Acord, who had started his professional career stunting with the Dick Stanley and the Buffalo Bill Wild West Shows, quickly found a place as a rider and stunt man in early films and earned a reputation as a Western film star. Beginning with his first serial The Moon Riders (1920) and in later ones such as In the Days of Buffalo Bill (1922), he proved himself as durable a screen hero as his close friend Hoot Gibson. Although Acord did not survive the transition to sound Westerns, his mark on silent and serial Westerns was indelible. Similarly, former stage actress Louise Lorraine (sometimes billed as "Louise Fortune") showed herself to be a capable heroine, who—despite her small stature—performed many of her own stunts. But she never made a real mark in the pictures, certainly never approaching the stardom of Pearl White or Ruth Roland; and she retired soon after the silent era came to an end.
---
Survival Status: Presumed lost.
Director: Ed Laemmle
Release Date: March 12, 1923
Release Company: Universal Pictures Corporation
Cast: Art Acord (Jean Brulet), Louise Lorraine (Rosita Velasquez), Duke R. Lee (Dr. Marcus Whitman), Jim Corey (Rene Coulier), Burton C. Law (Reverend Henry Spaulding), Sidney DeGray (Hernandez Velasquez), Ruth Royce (Narcissa Prentiss), Grace McLean (Mrs. Spaulding), Dick Carter (Dr. William Gray), Walter Bytell, William Ryno, Frederick Peters, Jerry (Rex the Wonder Dog), Fleetwood (Fleetwood the Horse)
Episodes: 1. Westward Ho! (in three reels, with the rest of the episodes in two reels). 2. White Treachery. 3. Across The Continent. 4. Message of Death. 5. Wagon of Doom. 6. Secret Foes. 7. A Man of God. 8. Seeds of Civilization. 9. Justice. 10. The New Era. 11. A Game of Nations. 12. To Save An Empire. 13. Trail of Death. 14. On To Washington. 15. Santa Fe. 16. Fate of A Nation. 17. For High Stakes. 18. Victory.