P
…is for
The Perils of Pauline
T
he Perils of Pauline,
a twenty-part serial developed by publishing magnate William Randolph Hearst, produced by Pathé, and released on March 23, 1914, is likely the best-known serial picture in silent cinema history. Directed by Louis J. Gasnier and Donald MacKenzie, it was based on a screenplay by veteran screenwriters Basil Dickey and Charles W. Goddard (who also wrote the novel).
The plot was both basic and, at times, outlandish. Pauline, a beautiful, wealthy young heiress, is in love with handsome Harry Marvin, the son of her adopted father and guardian, the retired rich industrialist Stanford Marvin. Fearful that his health is failing, Stanford encourages the couple to marry so that he can ensure their welfare. Pauline, though, resists—not because she does not reciprocate Harry's affection but because she first wants to spend a year on her own, pursuing her goal of becoming a writer and experiencing other adventures. Recognizing her talent and ambition, Stanford agrees to sponsor her on a yearlong trip around the world. But his sudden death brings radical changes: his will stipulates that his estate be divided between Harry and Pauline—but, in Pauline's case, only after she and Harry have wed. Should she die before she fulfills that condition, her half of the fortune would pass to Raymond Owen, Stanford's secretary. Owen, it turns out, is a terrible scoundrel and notorious villain who immediately begins plotting Pauline's demise. For the remainder of the serial, he persists in placing her in unimaginable "perils" that he hopes will precipitate her death and ensure his inheritance of her fortune.
Those perils are almost too numerous to count. Before an aviation race, Owen tampers with the airship on which he believes Pauline will be riding; the ship crashes, but fortunately Pauline, who had arrived too late to board, is unhurt. He convinces her to go in search of a treasure-laden pirate ship, where a cook on the yacht that he has engaged attempts to poison her. When that fails, he plants a bomb on board and rows away, leaving her to die. He arranges for "Chinamen" to waylay and hold her hostage; for a hot air balloon to break from its mooring and carry her off; for cowboys to hold her up while she is visiting her uncle in Montana; for "savage" Sioux Indians to capture her and force her to undergo the "trial of the Oracle"; for smugglers to strand her in a deserted inn off the Coast.
The more desperate that Owen grows over his failure to destroy Pauline, the more blatant his assaults on her become: he lets lions loose at a wedding party she is attending; causes her to suffer an automobile accident by hiring a chauffeur who is actually a former race-car driver suffering from amnesia; pays "Gypsies" to carry her off; delivers to her a bouquet of flowers with a poisonous snake hidden inside; drugs a horse that she will ride in a dangerous steeplechase race; imprisons her in a waterlogged cellar swarming with frantic rats; resorts to chemical warfare by injecting germs into a box of candy; refers her for a serious operation that will likely kill her; steals her pet dog in an effort to entice her from her home; and even employs a fanatical Japanese patriot to lure her onto a submarine packed with explosives. It seems there is no evil trick, no malicious scheme to which he will not resort.
Pauline, though, is even more resourceful than he is. Using devices such as escape cables, life buoys, and a hydro-aeroplane, she survives the various mishaps that Owen has orchestrated. And while she relies largely on her own wits and tenacity, Pauline is aided throughout by the devoted Harry, who dons a variety of disguises in order to stay close by her side and protect her—despite Owen's repeated attempts to sow discord between them and to eliminate Harry by placing him in lethal danger. In a sensational final episode, Owen plots to trap Pauline in an old barge that the Navy is using for military target practice. Saved by the heroics of her dog, who swims to the Navy vessel and alerts the officers to Pauline's presence on the barge, she is soon happily reunited with Harry.
The eponymous Pauline was played by the inimitable Pearl White, the "Peerless Fearless Girl." The best-known and most popular of the "serial queens" of silent film, she quickly gained an international following, not just for her film performances but also for her singular fashion sense and her outrageous and newsworthy personal life. Renowned for her daring, she—like many early film heroines—performed most of her own hair-raising stunts, many of them the cliffhangers for which the serial genre was named. In the Perils serial, she was stranded on the side of a cliff, carried off in a runaway balloon (which was intended only as a stunt but which became a near-accident after the actual balloon became unmoored and flew away), trapped in a burning house, and tied to a railroad track as a speeding train approaches. In the process, she incurred injuries that plagued her for the rest of her life.
Paul Panzer played the villainous secretary, Raymond Owen. The character's name, however, was changed for the serial's European release a year later: Owen became the more German-sounding "Koerner." Yet the story belonged to White, who became for moviegoers the embodiment of the "New Woman," the modern independent woman who resisted nineteenth-century proprieties and sought some measure of social, political, economic, and sexual freedom.
Colorful graphic posters for The Perils of Pauline lauded "The Death-Defying" White," calling her adventures "Thrilling, Terrifying, Titanic, Terrific." Accordingly, the Pathé serial was launched with a large and multi-faceted promotional campaign. Among the most successful advertising gimmicks was an arrangement between Pathé and publisher-turned-movie-producer William Randolph Hearst to publish a printed version of Pauline's adventures that coincided with the episodes being released in the movie theaters. And a number of contests, one of which promised a large cash reward for fans who suggested additional plot points for Pauline's exploits, piqued the interest of moviegoers even more.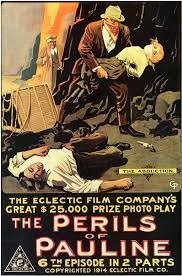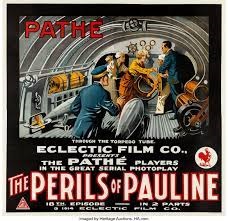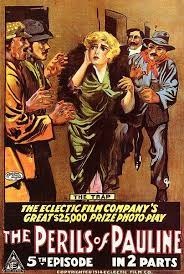 Today, The Perils of Pauline remains the best-known of the American serial productions, and even its title has become part of the vernacular. And Pearl White remains the most famous of the serial actresses of her day.
---
Survival Status: No complete version of the original twenty-episode serial is known to exists; but a nine-episode composite version is extant. According to Progressive Silent Film List, incomplete chapters (1-3 and 5-9) exist in the Lilly Library of Indiana University. According to Columbia Women Pioneers Project, early chapters also survive at the George Eastman Museum, the UCLA Film & Television Archive, Library and Archives Canada, BFI National Archive, and Academy Film Archive. Chapters also exist in other archives, including Fundación Cinemateca Argentina. Several chapters are available on YouTube. Chapter 1, "Trial By Fire" – https://www.youtube.com/watch?v=ZVPQa-10030. Chapter 2, "The Goddess of the Far West" – https://www.youtube.com/watch?v=z12KdW7lX6U. Chapter 4, "The Deadly Turning" – https://www.youtube.com/watch?v=AZtkZxa5Tkc. Chapter 6, "The Shattered Plane" – https://www.youtube.com/watch?v=SU49o8UO2Rg. Chapter 7, "The Tragic Plunge" – https://www.youtube.com/watch?v=I5EmMk3sRcg.
Directors: Louis J. Gasnier, Donald MacKenzie
Release Date: March 23, 1914
Release Company: Pathé Frères (American branch)/Eclectic Film Company, distributed by General Film Company, Inc.
Cast: Pearl White (Pauline Marvin), Crane Wilbur (Harry Marvin). Paul Panzer (Raymond Owen), Edward José (Sanford Marvin), Francis Carlyle (Hicks, Owen's Henchman), Clifford Bruce (Gypsy Leader), Donald MacKenzie (Blinky Bill, the Pirate), Jack Standing (Ensign Summers), Eleanor Woodruff (Lucille Sampson/Mlle. De Leongeon), Sam J. Ryan (Baskinelli), Louis J. Gasnier, LeRoy Baker, Louise De Pre, Oscar Nye, Joe Cuny, Charles "Patch" Revada, Frank Redman, Floyd Buckley, Spencer Gordon Bennet, Milton Berle, Thomas Waln-Morgan Draper, George Daly, Dick Dillon, Chief Thunderbird.
Episodes: (for the later edited version, which edited and rearranged the original twenty episodes for release) 1. Trial by Fire (in three parts, with the rest of the episodes in two parts). 2. Goddess of the Far West. 3. Pirate Treasure. 4. Deadly Turning. 5. A Watery Doom. 6. Shattered Plane. 7. Tragic Plunge. 8. Serpent in the Flowers. 9. Floating Coffin.