V
…is for
The Voice on the Wire
Full of suspense and violence, The Voice on the Wire (1917) was the rare serial whose story line became even more interesting as it progressed. Detective John Shirley has been trying, unsuccessfully, to end a crime wave of inexplicable murders that always seem to follow warnings imparted by a mysterious voice over the telephone. Meanwhile, the "Black Seven," a psychical-research group in Paris, have been holding secret meetings to advance their curious theories of life and death. In an attempt to prove their theory of "The Living Death," one of the members, Laroux, mummifies the wife of another member, Dr. Reynolds. In the chase after his arch-enemy, Reynolds suffers a serious injury: a snakebite causes him to lose one of his arms and forces him to get a new arm grafted to his body. That new arm, however, creates another problem: it inhibits his special ability to project his "astral body" through space. As Kalton Lahue explains, the grafted limb "shows" and gives the eerie appearance of an arm without a body attached. It is only at the end of the serial that Detective Shirley, who has been assisted all along by his colleague and love interest Polly Marion, realizes the killings he has been investigating have been committed by Reynolds' disembodied hand as revenge against the Black Seven, all of whom he has managed to dispatch as punishment.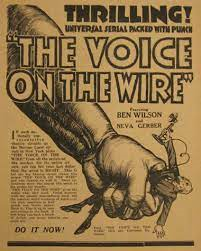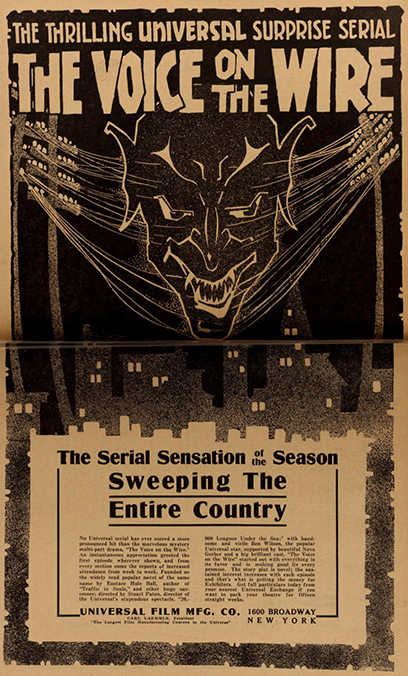 The serial, whose scenario was written by J. Grubb Alexander and based on the novel by Eustace Hale Ball, managed to meld a taut mystery drama with a story about the supernatural, thus combining two subjects that garnered much audience interest. The astral projection drew on the occult elements first introduced by Theodore and Leopold Wharton a year earlier, in their dramatic serial
The Mysteries of Myra,
in which the Master of the Black Lodge, another secret organization, used various forms of magic, including astral projection, in an attempt to eliminate the eponymous heroine and inherit the fortune that her late father and former lodge member had bequeathed to her.
Moreover, Ball's sleuth Detective Shirley was, as Ed Hulse observed, "an early example of a familiar type found in pulp fiction: a highly educated, socially prominent, and independently wealthy bachelor possessed of considerable mental and physical ability—in other words, an amalgam of Sherlock Holmes, Nick Carter, and Craig Kennedy." So he made an exciting and attractive screen hero for whom audiences could cheer.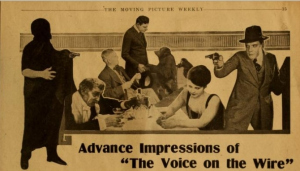 Teamed together for the first time in the production were co-stars Neva Gerber and Ben Wilson, two highly popular performers who began appearing in tandem in other adventure serials. Successors to the wildly successful Universal team of Grace Cunard and Francis Ford, Gerber and Wilson became a star duo at the box-office. They would go on to headline numerous serial dramas between 1919 and 1921, among them Trail of the Octopus, The Screaming Shadow, The Branded Four, and The Mysterious Pearl; and they would re-team a few years later, in 1925-1926, for other less successful serials such as The Power God, The Mystery Box, and Officer 444. The handsome Wilson was a true serial veteran: he had appeared opposite Mary Fuller in What Happened to Mary; and, after numerous on-screen performances, he would put his practical knowledge to work as a director of more than a hundred pictures. Gerber, a pretty former Chicago society girl, projected a genuine sweetness that endeared her to audiences, especially when she appeared opposite Wilson. The two, who enjoyed performing together, are remembered as one of silent film's most appealing and popular screen couples.
---
Survival Status: Presumed lost.
Director: Stuart Paton
Release Date: March 18, 1917
Release Company: Universal Film Manufacturing Company
Cast: Neva Gerber (Polly Marion), Ben F. Wilson (John Shirley), Francis McDonald ("Red" Warren), Ernest Shields (Howard Van Cleft), Joseph W. Girard (Dr. Reynolds), Nigel De Brulier (Professor Duval), Howard Crampton (Captain Cronin), William Canfield (William Grimsby), William Quinn (Emil LaRoux), Irene Hunt (Mrs. Reynolds), L. M. Wells (Professor Montague), Frank MacQuarrie (Alvin Van Cleft), Frank Tokunaga, Hoot Gibson, Josephine Hill, Lew Short.
Episodes: (two reels each) 1. The Oriental Death Punch. 2. Mysterious Man in Black. 3. The Spider's Web. 4. The Next Victim. 5. The Spectral Hand. 6. The Death Warrant. 7. The Marked Crown. 8. High Finance. 9. The Stern Chase. 10. The Guarded Heart. 11. The Thought Machine. 12. The Sign of the Thumb or the Fifth Victim. 13. 'Twixt Death and Dawn. 14. The Light of Dawn. 15. The Living Death.