W
…is for
What Happened to Mary
T
he film serial form can be traced back to the early twelve-part Edison Company production
What Happened to Mary,
whose first installment was released on July 26, 1912. Though more accurately considered a series rather than a true serial,
Mary
employed a narrative line that was composed of a distinct beginning, middle, and end; and its dozen one-reel episodes, like those of early serials, were filled with considerable physical action and suspense. But those episodes were autonomous and lacked the sequential continuity that came to define the serial genre.
Edison's production had its genesis in a "remarkable story of a remarkable girl" published in early 1912 in McClure's The Ladies' World magazine, one of the most widely-read periodicals of its day, in which an abandoned baby named Mary is found by shopkeeper Billy Peart. In the basket beside Mary is five hundred dollars to raise her, along with a note promising Peart another thousand if he finds her a suitable husband when she comes of age. Years pass. But after Peart locates a likely candidate, the now-eighteen-year-old Mary rejects him. Having learned the curious circumstances of her "adoption," she leaves town in search of the truth about her origins.
In a prelude to the many contests, premium offers, and novelty tie-ins eventually associated with the serial drama, readers were given clues and encouraged to submit three-hundred-word entries to The Ladies' World guessing Mary's whereabouts, with a cash prize for the winner. The gimmick added enormously to the story's popularity. Not surprisingly, more "Mary" stories—and more gimmicks—soon followed, the most successful one devised by The Ladies' World editor Charles Dwyer and Horace G. Plympton, General Manager of Thomas Edison's Kinetoscope Company. In the summer of 1912, the two men came up with the idea of printing a new "Mary" story in each issue of the magazine, with prizes for readers who correctly guessed what was in store for the heroine in the next print installment. The same week that the magazine was published, Edison would release, nationwide, a film version of that month's narrative. Their hope was that the two ventures would be mutually supportive. By targeting the female audience that constituted the primary readership of popular periodicals (particularly of the romance-adventure stories that began appearing in newspapers and magazines in the early 1890s and in so-called "girls' books"), they believed they could simultaneously increase the circulation of the magazine and the attendance at the theater. The idea worked beautifully. Sales of the magazine rocketed to more than a million copies a month. According to Buck Rainey, "The Ladies' World jumped ahead in the circulation war with its competitors and Edison realized a nice profit on the films."
In the film series, written by Plympton and directed by Charles Brabin, after the eponymous heroine Mary (played by Mary Fuller, a principal player in the Edison acting company) learns the circumstances of her adoption and rejects the suitor whom Peart (William Wadsworth) has proposed, she embarks on some fascinating adventures that take her from New York to London and back again before she uncovers the secret of her identity. Since each installment was self-contained, it could be understood and enjoyed independent of the rest. Yet while the question of how and when Mary would obtain her inheritance created a modicum of suspense for the audience, the one-reel films lacked the cliffhanger ending and the other "thriller" devices common to later serials; and ultimately, as Ed Hulse noted, the connecting narrative proved too diffuse and the intervals between major plot incidents too long. But because the same heroine was featured in each of the episodes, viewers developed a familiarity with the character, even though her story did not demand a sequential regularity. The series, moreover, was popular enough to warrant a sequel, the six-part
Who Will Marry Mary?,
released a year later.
Similar series followed, among them Kalem's railroad adventure The Hazards of Helen (1914-1917) and The Ventures of Marguerite (1915), which starred Marguerite Courtot as a young heiress who attempts to escape the many schemers, foreign agents, and kidnappers who want to steal her fortune—one of the most common plot lines in early series and serial pictures. As a precursor of the serial craze, though, What Happened to Mary continues to hold a distinctive and unparalleled place in silent and serial cinema history.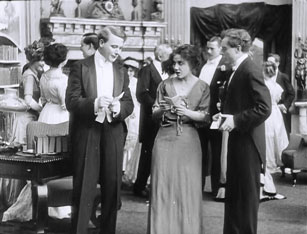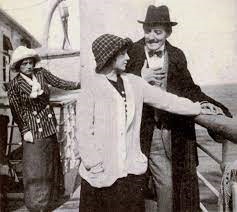 ---
Survival Status: Uncertain. Progressive Silent Movie List writes that a print survives but does not indicate where. Other sources, however, suggest that the series is presumed lost.
Director: Charles Brabin (and possibly, according to Progressive Silent Movie List, others as well: J. Searle Dawley, Walter Edwin, George A. Lessey, Ashley Miller, and Harold M. Shaw)
Release Date: July 26, 1912
Release Company: Thomas A. Edison, Inc., distributed by the General Film Company, Inc.
Cast: Mary Fuller (Mary Dangerfield), William Wadsworth (Billy Peart), Ben Wilson, Marc MacDermott (Lt. Straker), Charles Ogle (Richard Craig, Mary's Uncle), Barry O'Moore (Henry, Craig's Son), Bliss Milford (Daisy), Bigelow Cooper (Mr. Foster, the Lawyer), Miriam Nesbitt (Spy), Harold M. Shaw (Rev. Cooper), Harry B. Eytinge (Secretary, Occidental Trust Company), Walter Edwin (Manager of Society Queen), Yale Benner (John Chase), James Smith (Stage Manager), Carey Lee (Leading Lady), Arthur Housman (Principal Comedian).
Episodes: (one reel each) 1. The Escape From Bondage. 2. Alone in New York. 3. Mary in Stageland. 4. The Affair at Raynor's. 5. A Letter to the Princess. 6. A Clue to Her Parentage. 7. False to Their Trust. 8. A Will and a Way. 9. A Way to the Underworld. 10. The High Tide of Misfortune. 11. A Race to New York. 12. Fortune Smiles.
---
Who Will Marry Mary? (sequel to What Happened to Mary)
Survival Status: According to the Progressive Silent Film List, the film is presumed lost. But fragments of a single episode exist in the EYE Film Instituut Nederland Film Archive and the film holdings of Keene State College (New Hampshire). Access a portion of "A Proposal from the Duke" on YouTube at https://www.youtube.com/watch?v=xea6CGYjwp0.
Director: Unknown (possibly Walter Edwin)
Release Date: July 26, 1913
Release Company: Thomas A. Edison, Inc., distributed by the General Film Company, Inc.
Cast: Mary Fuller (Mary), Ben F. Wilson (Captain Justin Bradford), Richard Tucker (Duke Leonardo de Ferrara), William Wadsworth, Harry Beaumont, Miriam Nesbitt, Marc McDermott, Harold M. Shaw, May Abbey, Frank McGlynn, Sr., Walter Edwin, Pal (Dog).
Episodes: (one reel each) 1. A Proposal from the Duke. 2. A Proposal from the Spanish Don. 3. A Proposal from the Sculptor. 4. A Proposal from Nobody. 5. A Proposal Deferred. 6. A Proposal from Mary.