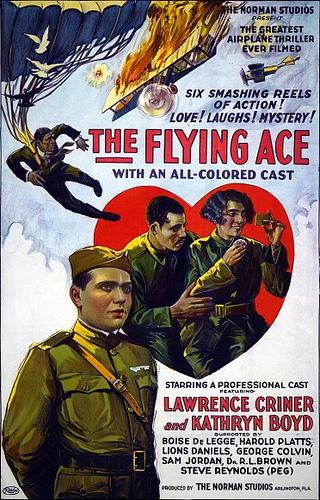 Considered among the most popular African American actors of stage and screen from the 1920s through the early 1950s, Laurence Criner enjoyed perhaps the most successful film career of any of Richard Norman's actors.
He got his industry start as a member of the famed acting troupe The Lafayette Players and played the male lead in two Norman films, as Capt. Billy Stokes in The Flying Ace and Ace Brand in Black Gold.
Sometimes credited as Lawrence, Criner also worked with Oscar Micheaux, widely regarded as the father of black filmmaking, in his 1927 film, The Millionaire. During the late 1930s and early 1940s, he starred in 12 films produced by Million Dollar Productions, Hollywood's first black studio. Many of his young leading ladies went on to major stardom including Lena Horne in The Duke is Tops, Ruby Dee in What a Guy and Dorothy Dandridge in Four Shall Die.
Among Criner's most memorable on-screen performances was his last – as the minister who encourages a young Jackie Robinson to accept the offer to be the first African American to play in major league baseball in 1950s The Jackie Robinson Story. But perhaps his most inspiring and enduringly important role was his first. His portrayal of a military pilot in The Flying Ace would be the first time that audiences saw a man of color in such a role. Though Criner did serve in World War I, it wasn't until World War II that African Americans would serve as war pilots. And historians confirm that among those first black war pilots, the Tuskegee Airmen, were men who had been inspired by seeing The Flying Ace in theaters as young boys. Criner also served in the Navy in World War II. He died in 1965 in Los Angeles.