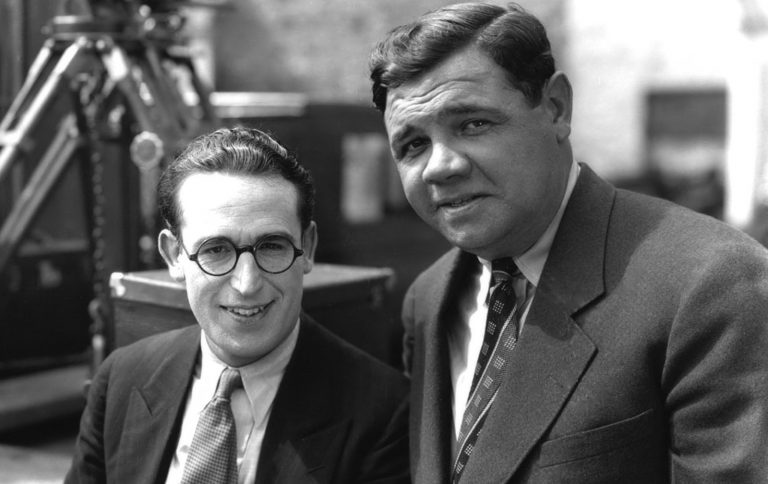 By Mitch Hemann
Harold Lloyd's final silent film, Speedy (1928), is arguably some of his finest work. In this delightful comedy, Lloyd plays a hapless, bespectacled fellow who loves baseball almost as much as he loves his girlfriend, Jane (Ann Christy). Much to Jane's dismay, his passion for the game prevents him from keeping a job. Speedy eventually finds himself at the reins of the city's last horse-drawn streetcar in order to save her grandfather's business. The hilarious romp is chock-full of gags and slapstick humor.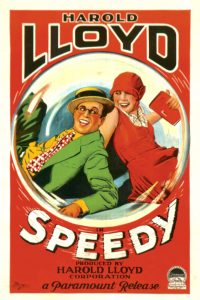 There are a few things worth pointing out that I feel make this film so remarkable. One is that Lloyd shot most of it on location in New York City, a daunting task that ended up extending their shooting schedule by many weeks. The result is an homage to New York during the Jazz Age the likes of which you won't see anywhere else. The marvelous footage of Coney Island alone is worth the price of admission. The film inadvertently becomes a time capsule from a bygone era, and Lloyd captures it beautifully.
The second thing worth noting is the unexpected cameo by none other than Babe Ruth. The Sultan of Swat plays himself, handing out autographed balls at an orphanage before jumping into Speedy's cab where he goes for a wild ride to Yankee Stadium. Every moment with the Bambino is a hoot, but it's amazing that he was there at all considering his hectic schedule.
It was a busy week for Babe when he appeared in Speedy. On Monday, he was in court to address charges that he had allegedly assaulted a man on the street. He was later cleared of those charges. He also played eight games that week, including double-headers on both Tuesday and Saturday. On Thursday, Babe filmed the orphanage scene, the scenes in the cab, and still made it to his game at Yankee Stadium that afternoon.
There are a couple of interesting facts about Babe's cameo that are easily overlooked. In fact, if you blink, you might miss them. When Ruth finally arrives at the stadium, we get a peek at not one, but TWO legendary players together in the same frame. While Speedy holds the door for Babe, we get a quick glimpse of none other than Lou Gehrig peering through the cab window, in what just might be cinema's first photobomb!
The film also features stock footage of the Big Bam in action, and that's where we get to see something equally incredible. According to baseball scholars, the home run we witness in the film is his record breaking 4th homer in the World Series against the Cardinals in 1926. More amazing history preserved! Speedy is full of surprises!
Speedy on its own is wonderful, but it's made so much better by all of the hidden gems it contains. And I've only scratched the surface! Take a look for yourself and see what you can find!
Further reading:
http://baseballresearcher.blogspot.com/2015/08/old-footage-now-identified-as-showing.html