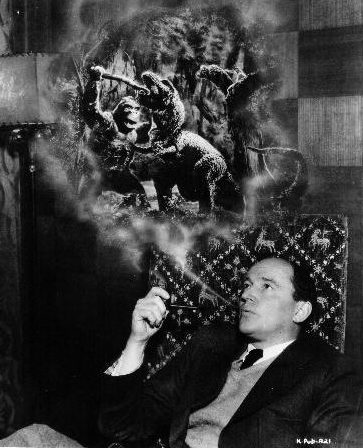 By Mitch Hemann
Mention the name King Kong to anyone, and you're likely to conjure up images of a massive ape clinging to the top of a skyscraper swatting at airplanes like buzzing flies. This image has been burned into my imagination since childhood, and will long be remembered as one of the most iconic images in cinema. But the man behind this much beloved story lived a life far more adventurous than anything you'd see on the silver screen.
Merian Caldwell Cooper was born in Jacksonville Florida on October 24th, 1893 to John C. Cooper and Mary Caldwell. When he was 7 years old, he and his family lost their home on Monroe Street in the Great Fire of 1901. The fire roared through the downtown area in no time, and when it was all over, practically the entire city was in ruins. The Coopers rebuilt on nearby Market Street, but the devastation young Merian witnessed that day left an indelible mark on his imagination.
Another turn of events was about to make an impression on him as well. As Cooper was coming of age, Jacksonville became a major hub for silent filmmakers. Production companies were flocking to the southern town to enjoy the benefits of the subtropical climate and exotic locales. Cooper would spend his days in many of the local movie houses, quenching his thirst for adventure. There was no doubt that he had caught the movie bug, but that venture would have to wait. There was a war on.
Cooper signed up to fight in World War I and attended the U.S. Naval Academy. He became an aviator and flew many missions over Europe until he was shot down by the Germans. Instead of bailing out and abandoning his gunner, he managed to land the plane safely, but the two were captured. Believed dead, a death notice was sent home to his family.
Instead of returning home after the war, Cooper formed a group of American volunteers called the Kosciuszko Squadron and defended Poland against Russia. He was shot down yet again and spent many months in a Russian labor camp. He somehow managed to escape and trekked hundreds of miles to safety. Most men would have had their fill of adventure at this point, but Coops wasn't through.
During this time he met and formed a lasting partnership with the cameraman, Ernest Schoedsack. While exploring Persia (now Iran), the two were able to capture amazing never before seen footage of tribal migration, which would become the documentary, Grass (1925). They eventually signed with Paramount Pictures and got to work on their second documentary, Chang (1927). Shot in Siam (now Thailand), the two yet again had a chance to document a life rarely seen by Western eyes, including some breathtaking footage of an elephant stampede. Their third installment, 1929's The Four Feathers, was shot in Africa and also received much acclaim. The strategy the two had developed of keeping it "distant, difficult, and dangerous" had really paid off. But Cooper's experience with the Hollywood machine during this period left him disillusioned, and he briefly left it behind to pursue a career in aviation again. That is, until David O. Selznick scooped him up and made him his assistant at RKO. Cooper saw this opportunity as a chance to pursue his latest and wildest project, and he was going to call on Schoesdsack once again to make it happen.
The idea of King Kong had lived in Copper's imagination since he was a child, but he never thought it could come to fruition until his time at RKO. It was there that Cooper met Willis O'Brien, a special effects wizard who was experimenting with stop motion animation. This was the "aha" moment that Cooper needed to make his giant ape a reality. With Cooper's relentless energy, and Schoesdack's cinematic genius, Kong was born. Opening in 1933, starring Fay Wray and Robert Armstrong, King Kong was an instant hit with audiences all over. What wasn't to love about this modern take on the classic beauty and the beast story? Kong was a brute, but lovable, and the audience fell in love with him.
Banking on the success of Kong, RKO made Cooper their head of production. His career quickly took off, and he became the man behind many of Hollywood's most memorable contributions. It was Cooper who paired Fred Astaire and Ginger Rogers together, it was Cooper who saw the enormous potential of Technicolor, forming Pioneer Pictures with David O. Selznick to take full advantage of this new advancement. Selznick would later use this process in the making of Gone with the Wind. Cooper would also go on to form Argosy Pictures with John Ford, which gave us classics like Ford's famous "Cavalry Trilogy" (Fort Apache, She Wore a Yellow Ribbon and Rio Grande). The final film the two would work on was The Searchers (1956), arguably one of Ford's best.
On April 21st, 1973, Merian C. Cooper died in his San Diego home of cancer. Having lived the life of ten men, the daredevil, adventurer and pioneer of cinema was suddenly gone. His ashes were scattered at sea, a fitting finale for a man who loved the world so much he devoted his life to exploring every inch of it.