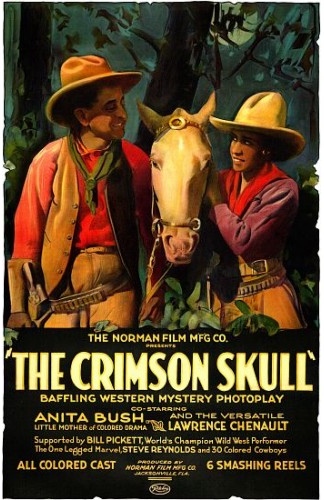 Shot simultaneously with The Bull Dogger, The Crimson Skull featured famed rodeo cowboy Bill Pickett, along with accomplished actors Lawrence Chenault, Anita Bush and Steve "Peg" Reynolds. It centers on the hero's effort to rid the Oklahoma Prairie range of a gang of cattle-rustling, stagecoach-robbing outlaws.
"Its peace has been disturbed by a band of outlaws," reads a promotional poster for the six-reel film, produced in 1922 by silent filmmaker Richard Norman. "The Skull and his Terrors have sown mortal fear into the hearts of the less intrepid of the countryside and they have the Sheriff in their power."
When the sheriff is forced to resign and a $5,000 reward for the capture of the Skull is offered, fearless Cattleman Lem Nelson steps up as the new county sheriff. But the notion of the reward, and his love for Nelson's beautiful daughter Anita, drives cowhand Bob Calem to devise a heroic undercover plan. He joins the Skull's gang to get close to its superstitious leader, and sneaks away to don a skeleton costume, aiming to strike fear in the gang's members. When the gang captures Anita and her friend, a one-legged cowboy, Calem surreptitiously works to free them. But he's soon caught and accused of being a traitor. To prove his innocence, he must pass the test of the crimson skull.
"One drop of blood decides his fate – if he shall live or die."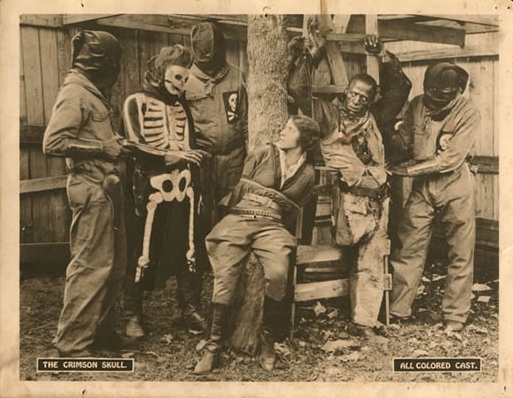 While the film thrilled many audiences, its subject matter prompted censorship in some markets. These included Pennsylvania, which rejected the film over its depiction of "masked criminals, shooting and other violence of all kinds, robbery and successful defiance of authorities throughout."
Unfortunately, Norman's The Crimson Skull is believed lost. But artifacts survive, including an original script and multiple props held by the Autry National Center of the American West.