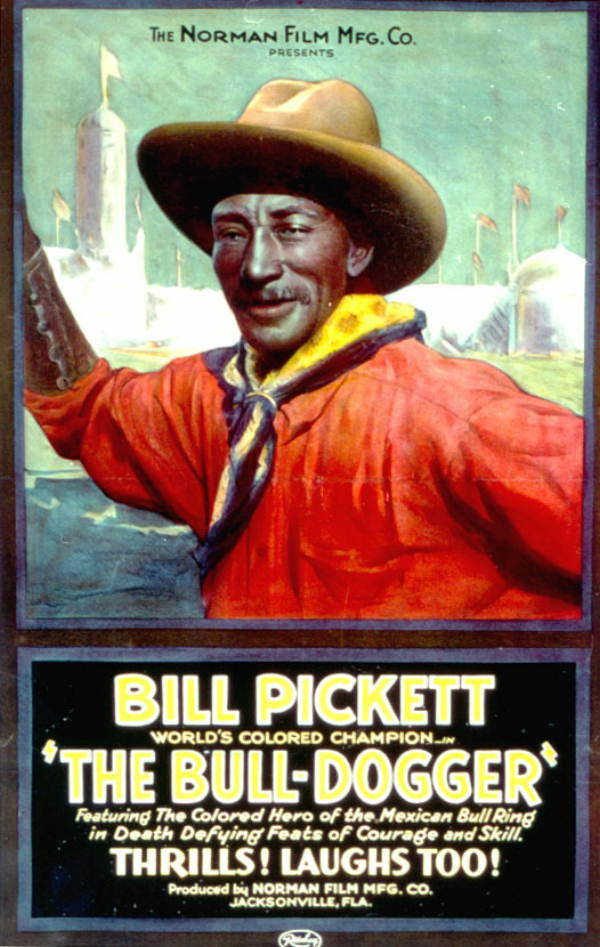 During his travels throughout the Midwest, silent filmmaker Richard Norman happened upon an incredible scene – a rodeo starring a black cowboy who could take down a steer with his bare hands. Oh, and his teeth.
A performer in the famed Miller Brothers 101 Ranch Wild West Show, Bill Pickett was credited with inventing the bulldogging sport, the predecessor of modern-day steer wrestling. His performances involved Pickett jumping from the back of a speeding horse, grabbing a running steer by the horns, sinking his teeth into the steer's lip and twisting the animal to the ground. Crowds roared and Norman knew Pickett had star power.
In 1922, Norman cast Pickett in his first film, The Bull Dogger. Posters lauded Pickett as "colored hero of the Mexican bull ring in death-defying feats of courage and skill." The film and its promotional material played on Pickett's international fame. The son of a free slave, Pickett had performed for the King and Queen of England and enraged crowds in Mexico when he successfully bulldogged one of their fighting bulls.
While The Bull Dogger, shot in and around Boley, Wellington, Okmulgee and Oklahoma City, OK, thrilled many audiences, particularly those of African Americans who had never seen real life black rodeo cowboys, it dismayed others. The full version of the film was five reels, but shorter versions existed too, primarily as a result of censorship.
For example, records show that Evalyn Frances Show, censor for the Ohio Department of Education, insisted upon all scenes involving actual bull dogging be cut from the film before screening in the state, reportedly at the behest of animal rights advocates.
Media reports noted that despite the racist reality of the day, Norman "seems to have reached beyond the headlines and produced a hero his intended audience hungered to see and identify with." Pickett's star certainly shined – bright enough to attract the attention of then-President Theodore Roosevelt. Publicity for The Bull Dogger quoted the president as saying, "Bill Picket's name will go down in Western history as being one of the best trained ropers and riders the West has produced."