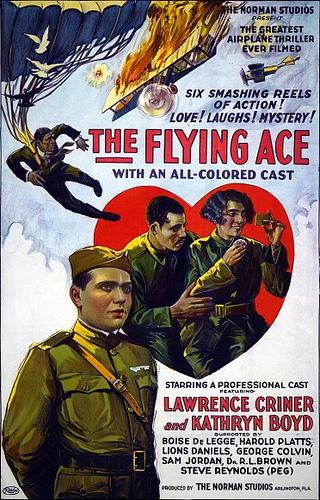 Kathryn Boyd is one Norman actress about whom very little is known. It's believed that she was the real-life wife of accomplished actor Laurence Criner, who would play her leading man in the her only two known films, The Flying Ace and Black Gold.
But her portrayal of Ruth Sawtelle was inspired by one of the world's most iconic African American historical figures. On June 15, 1921, Texas native Bessie Coleman became not only the first woman of African-American descent to earn an international aviation license from the Fédération Aéronautique Internationale, and the first American of any gender or ethnicity to do so, but the first woman of African-American descent to earn an aviation pilot's license. She had to travel to France to earn those distinctions, as she was turned away from training in the United States. No one stateside was willing to teach a black woman to fly.
But upon her return to the US, she proved a media sensation. Coleman quickly became a star doing barnstorming stunt performances for pay throughout the US. And Richard Norman knew immediately that she would have star power on screen as well. In letters held by the Indiana University's Black Film Center/Archive and Lily Library, Coleman and Norman discussed the possibility of her starring in a film written just for her.
In April of 1926, Coleman was scheduled to perform in an air show in Jacksonville, Florida, where Norman's silent film studio complex was located and still stands today. It's unclear whether she and Norman met in person, but correspondence between the two suggests that they likely had plans for a meeting. Sadly, tragedy struck before a film deal would be made. During an April 30 airshow practice, wrench used to service the engine of the Curtiss JN-4 Jenny from which Coleman had planned to parachute in the next day's show slid into the gearbox and jammed it. The plane unexpectedly dived and spun, throwing Coleman to the ground. She died instantly at age 34.
Perhaps in honor of Coleman, Norman wrote, produced and released The Flying Ace later that year. The film's heroine, played by Boyd, was a beautiful and bold young woman determined to learn to fly a plane. World War II historians confirm that multiple young boys who saw The Flying Ace in theatres in the late 1920s would grow up to become the Tuskegee Airmen – the first African American war pilots. Who knows just how the film may have inspired young girls of the time as well?
Do you know something about Kathryn Boyd? Please contact us and help us tell more of her amazing story.