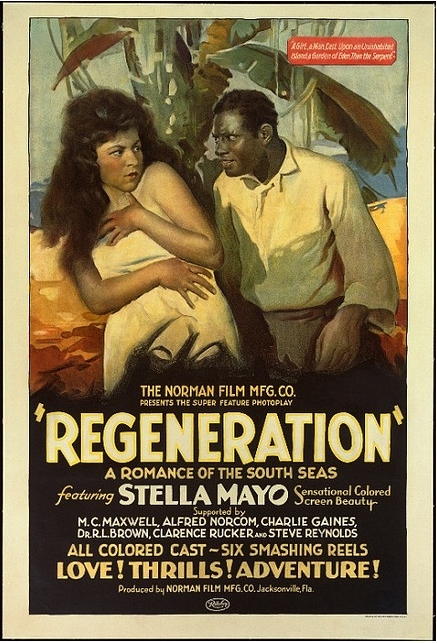 Filmed in Jacksonville, FL in 1923 and starring the beautiful Stella Mayo, Richard E. Norman's Regeneration was a touted as a "romance of the South Seas." But censors found it a bit more scandalous than truly romantic.
Publicity materials described the film's plot this way:
"A ne'er-do-well man, a beautiful girl, and her one-legged body-guard/family servant are the sole survivors – they think – of a ship wreck and make it to an uninhabited south-seas island. The influence of the girl brings about a reformation of the man in this version of Eden… until three sailors, also survivors, show up, and have designs on the girl. Then a pirates' treasure chest is discovered buried on the beach, and matters become even more tense… and violent."
Regeneration was shot in Mayport, then a small, seaside village just out side of Jacksonville and, since 1944, home to Naval Station Mayport. The film featured nine different sets and a hired schooner that would be set ablaze.
In her book, Richard E. Norman and Race Filmmaking, author Barbara Tepa Lupack writes that "Norman – ever the good showman – not only hyped the film but also exaggerated some of the facts of the production."
Wrote Norman to theater owners:
"The action of this smashing picture sweeps you out on the High Seas. A two Mastered Schooner, 7 miles at sea, is burned before your eyes. No expense was spared to make "Regeneration" a credit to your theatre and to the colored performer. Matchless Photography and light effects never before accomplished in a Colored Picture. Sun Rises and Sun Sets furnish a background of beauty against which the smashing action of this picture sweeps. Fights in the Second, Third, Fourth and Sixth Reel that can't be surpassed for realism and punch."
Even in preproduction, Norman knew that the film may ruffle a few feathers, but seemed confident he could dodge censorship.
"Regeneration is a high-class thriller and will appeal," he wrote to a friend before the film's completion. "I am endeavoring to work in several nude and artistic bathing scenes on the desert island that will not offend and can be nicely removed [for] censorship… one of them showing this bathing scene with the villain peering lustfully through bushes at a terrified girl – it will draw like a mustard poultice. But as I said, everything is constructed so you can get by censorship – even if same is cut out as it is an addition to the story to boost business."
It was clear that Norman was aiming at images that would be just enough to titillate audiences, but pass censorship standards.
"When Violet Daniels [the female lead] is cast on the Island of Regeneration, she becomes somewhat ragged through the lapse of time, which shows parts of her leg and neck, just enough to intrigue," he wrote to MC Maxwell, Norman's friend and the film's male lead. "If your characters have good figures, it will add to the charm of the movie."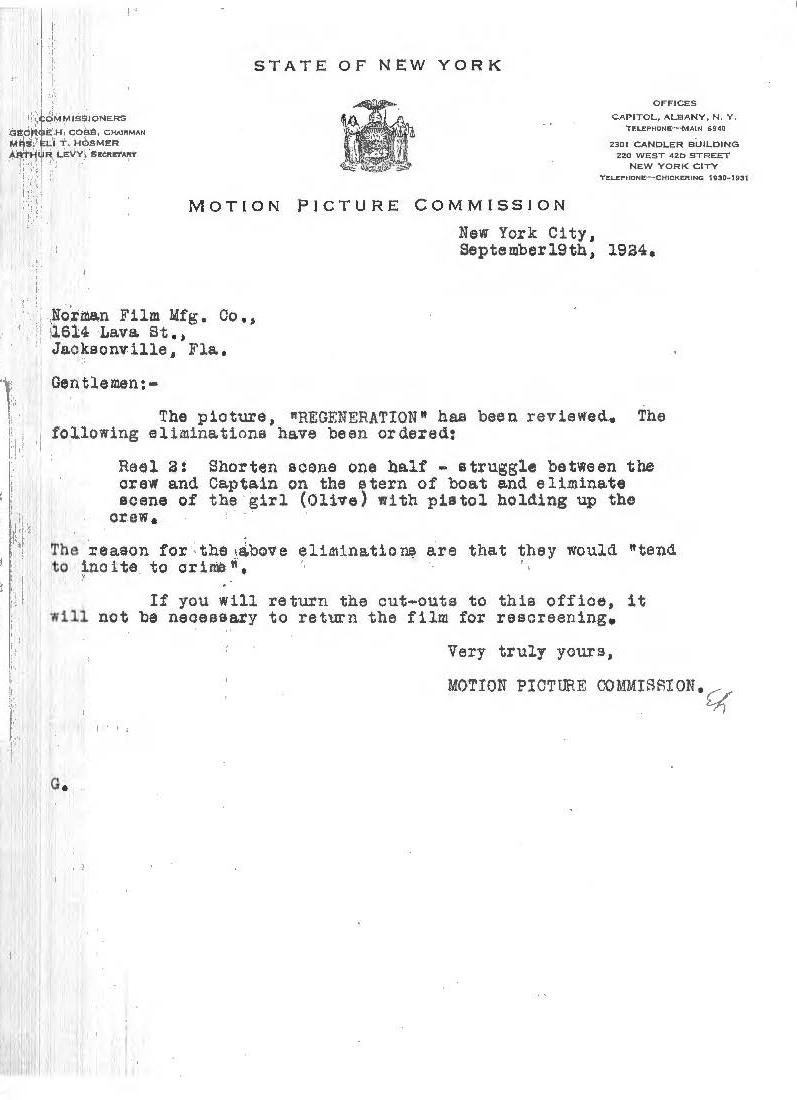 Apparently, Norman was right. Though portions of Regeneration were censored in several markets, the complaints tended to be centered on the film's violence, rather than its more sensually suggestive content. In 1924 the State of New York, for instance, wrote Norman, instructing him to shorten a fight scene on the stern of a boat and eliminate a scene showing a girl holding up the crew with a pistol, for fear the scenes would "tend to incite crime."
Still, audiences proved that Norman's confidence in the film's appeal was dead-on. On a visit to New Orleans, Maxwell reported back to Norman that a screening of Regeneration was forced to turn away customers lined up for four blocks and the film was breaking all records at the Lyric Theatre. On Norman's suggestion, larger venues purchased gallons of white or brown building sand and scattered it across lobby floors for a realistic bit of scene setting. Further, the film was a hit not just with black audiences but with white patrons, too.
In a letter to Thomas James of the Comet Theatre in St. Louis, Missouri, Norman wrote:
"Now, Mr. James, you have played colored pictures showing the lowest type of colored man and white man in the same picture. You have possibly played a so-called colored picture, using the word "nigger" in the sub-titles, and in this event, we are safe in saying that your patrons are ripe for a Colored Picture free from all these things which are a detriment to a successful colored production. Regeneration is a picture that you will be proud to offer your patrons. It is to-day playing in the Roosevelt Theatre, catering to an audience composed of 40% withe and 60% colored. How many of the so-called Colored Pictures you have played could do this without race friction in the audience?"
Unfortunately, no known full copies of Regeneration exist. However, Kino Lorber recently restored an 11-minute portion of the second reel, archived in the Library of Congress, though video remains largely obscured by nitrate decomposition.