Heads up, film fans! The first full-length biography on late silent filmmaker Richard Norman has hit the shelves!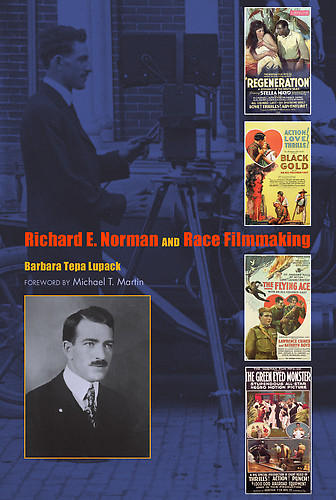 Author Barbara Tepa Lupak and the Indiana University Press recently released Richard E. Norman and Race Filmmaking, a 313-page paperback book that chronicles Norman's career as one of the pioneers of African American filmmaking. The book follows Norman's work as a pianist who provided musical accompaniment for some of the nation's earliest silent films in local theatres; an inventor of various wares from a soft drink called Passi Kola to the Camera-Phone, a device designed to sync sound with video; feature race filmmaker; and distributor of other projects including Joe Louis fight films.
The book is full of rarely seen images from the Richard E. Norman Collection, donated by the Norman family to Indiana University's Black Film Center/Archive and Lily Library. Personal and film still photos, promotional materials and business documents offer an extraordinary glimpse into Norman's life and work. Readers also are treated to full scripts of Norman's The Green Eyed Monster, The Bull Dogger and The Crimson Skull.
Says Paula Massood, author of Making a Promised Land: Harlem in 20th Century Photograph and Film: "Grounded in impressive archival research, Barbara Tepa Lupack's book offers a long overdue history of Richard E. Norman and the filmmaking company he established in the twentieth century. Lupack's ability to describe Norman's films – and the work that went into their production – reanimates them for readers and stresses their role in shaping early African American cinematic representation."
Lupack has written extensively on American literature, film and culture, authoring or editing more 20 books and teaching at universities throughout the US and abroad. Other titles include Literary Adaptations in Black American Cinema; Nineteenth Century Women at the Movies and Adapting Classic Women's Fiction to Film.
Richard E. Norman and Race Filmmaking is available in paperback, cloth and e-book form at multiple stores and via online retailers including Indiana University Press, Barnes & Noble, Amazon.com and Walmart.com.
Check back soon for a Q&A with Lupack.