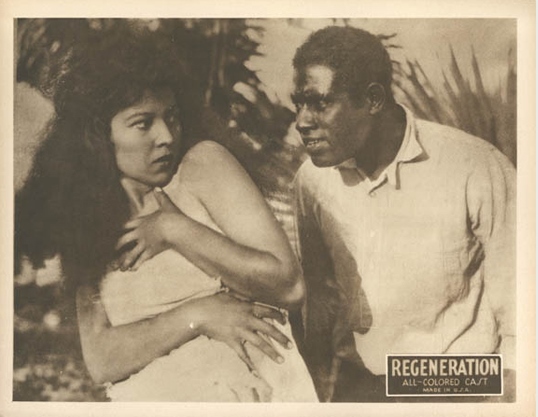 Very little is known about actress Stella Mayo, billed as the "sensational colored screen beauty" who starred in silent filmmaker Richard Norman's Regeneration. While a few scant sources suggest that she was the wife of a touring magician dubbed "The Great Mayo," it seems that the act, too, was largely obscure.
What we do know is that after a few heated negotiations with other actresses who either asked too much money or simply didn't look the part, Norman cast Mayo in a then-controversial film that would prove one of his most lucrative. Mayo played a beautiful young woman who finds herself shipwrecked on an uninhabited south-seas island with only her one-legged servant (played by Steve "Peg" Reynolds) and a ne'er-do-well man who, of course, eventually falls in love and mends his ways. It's an Eden-like existence until three sailors with designs on the girl show up. And things turn violent when a pirate's buried treasure is discovered on the beach.
Norman knew that his "high-class thriller" would appeal to audiences, though perhaps not to censors. He was right. Though he was careful in the way he planned and shot a nude bathing scene with Mayo, censors rejected several of Regeneration's scenes deemed violent, including a fight scene and another featuring Mayo's character pointing a gun.
But just as Norman predicted, audiences loved the film and its radiant young star. Reports show that in New Orleans, for instance, a screening of Regeneration was forced to turn away customers lined up for four blocks and the film was breaking all records at the Lyric Theatre. Unfortunately, no known copies of Regeneration are known to exist. And, it appears that the film was Mayo's one and only. After Regeneration left theaters, Mayo seemingly slipped back into obscurity.
If you have any information about Stella Mayo, please contact the Norman Studios.