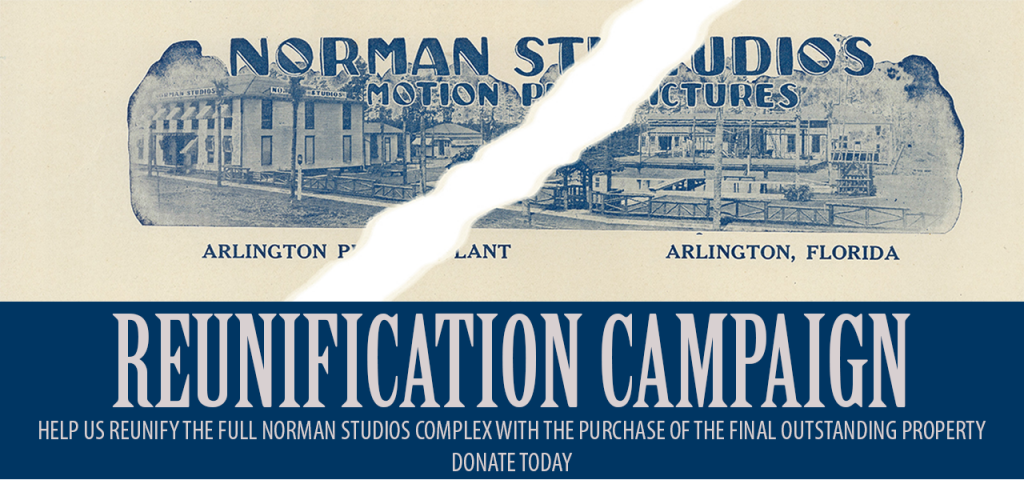 In late 2016, the Norman Studios launched its Reunification Campaign – a major fundraising effort to help reunify late silent filmmaker Richard Norman's full silent film studio complex, bringing the final outstanding portion of the property back into the fold. With the entire complex under management of our 501(c)3 organization, we'll be in prime position to restore and transform it into a world-class history, research, tourism and film learning center.
So how did the property come to its current state?
Eagle Film City built the state-of-the-art silent film studio in 1916. Four years later, after having developed a successful filmmaking career while traveling the Midwest, Richard E. Norman returned home with a beautiful new finance and an idea that would help break racial barriers in mainstream filmmaking. He purchased the studio property 1920 at the end of Jacksonville's heyday as the "Winter Film Capital of the World" and over the next decade, produced eight "race films", starring all-black casts. While other filmmakers were heading westward to Hollywood, Norman effectively kept the industry here in the River City for another 10 years.
Norman wasn't just a game-changing filmmaker. He also was a prolific inventor. Among his best work was his Camera-Phone (circa 1930), a system that synched up video and sound in an effort to create commercially viable "talkies." But Norman's system quickly became obsolete when Western Electric discovered how to put sound directly on the film. This loss drove Norman out of feature film production, though he continued working in the field, distributing other filmmakers' works and producing industrial and training films for corporate clients.
However, wife Gloria – a creative force in her own right – put the Stage Building back to work as the Gloria Norman Dance Studio for the next 40 years. In 1974, a decade and a half after Norman's death, the family auctioned most of the contents of the studio complex, including filmmaking equipment, props and set pieces, and sold the property to electrical contractor Hugh Smith. By 1999, all the studio buildings were crumbling from neglect.
But rescue was on the way. In 1996, The Circle of Faith Ministries purchased the Stage Building half of the property and preserved it for use as their sanctuary. Three years later, the City of Jacksonville purchased the other half, which contains four original buildings and launched a grant funding effort to address structural issues and restore the exteriors. By 2008 that restoration was completed and in 2013, Norman Studios, Inc. signed a contract with the City to manage the property. We since have been working to protect and restore the gutted interiors of the city-owned buildings.
Now, in an epic plot twist, we have the once-in-a-lifetime opportunity to purchase the property and reunite the full original studio complex, creating a functional center for Jacksonville film history in the beautifully preserved Stage Building.
How can you help?
You can play a major role in our multifaceted Reunification Campaign by: