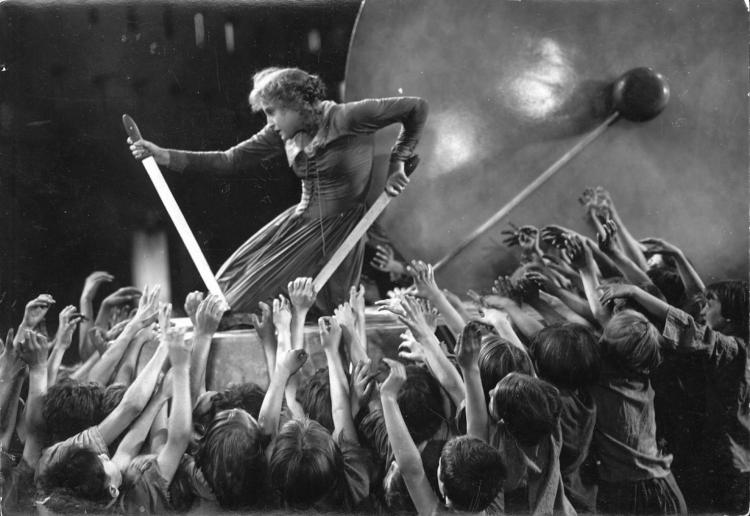 By Mitch Hemann

"There can be no understanding between the hand and the brain unless the heart acts as mediator."
Arguably one of the most recognizable and beloved vamps of the silent era, Brigitte Helm's life was complicated both on and off screen, and there's no greater example of the complexities of this illusive and mysterious woman than her dual roles in Fritz Lang's masterwork of German Expressionism, Metropolis (1927). Whether she's playing the saintly matriarch of revolution, or her unbridled and wanton robot double, it's difficult to take your eyes off of her.
Born in Berlin on March 17th, 1906, Brigitte Eva Gisela Schittenhelm had no desire to be in cinema. She had been in a few stage productions in school, but had little interest in pursuing a career in acting.
However, her mother had other ideas, and sent her daughter's photo to Fritz Lang. Brigitte was just 18 years old. Her striking and unique features must have made an impression, because Lang gave her a screen test and cast her in what is considred one of the most important films ever made.
But production took its toll on Helm. Lang, the consummate perfectionist, was a stern taskmaster and the experience was both exhilarating and exhausting for Helm. In a rare interview in 1927, Helm recalls the "incredible work":
"Once I even fainted: during the transformation scene, Maria, as the android, is clamped in a kind of wooden armament, and because the shot took so long, I didn't get enough air."
"Now that it's over, I have trouble remembering the disheartening and sadder moments – only the sunnier and uplifting moments stay with me. Sometimes it was like heaven, and other times like hell! The three weeks spent shooting the water sequence, when the underground city is flooded, were unbelievably hard on my health. Even now, I have to admit that I don't know how I got through it. "
In both roles, Helm is mesmerizing and, though the film almost bankrupt Ufa, it solidified her career as one of the most desirable vamps of the Weimar Era.
But this new found celebrity began to haunt Helm, and like so many other actresses of the era, being typecast as the alluring temptress became a burden that Helm struggled to carry. She sued Ufa for the limiting roles and lost. Sadly, Helm had no other choice but to continue playing these parts to pay her legal bills.
Trouble continued to find Helm. Reported to have a penchant for fast cars, she was involved in a couple of auto accidents and even served a brief sentence in jail. According to Otto Dietrich in "The Hitler I Knew", Hitler was a big fan of Helm's and personally had manslaughter charges against her dropped. Helm starred in over 30 films in 10 years. But when Ufa wanted to renew her contract, she declined. Helm drew the curtain on the silver screen and walked away as mysteriously as she arrived. She never looked back.
In 1935, Helm married Dr. Hugo von Kuenheim, an industrialist of Jewish descent, and they quickly left Nazi Germany for Switzerland. Helm raised four sons and never did an interview regarding her brief but dazzling career. Always preferring the role of housewife, it's likely she was glad to have it all behind her. Once, a journalist approached one of her sons, hoping he'd convince his mother to give an interview. Her son replied, "If I arrange that, she will disinherit me".
https://sites.google.com/site/helmbrigitte7/home
http://cinefantastiqueonline.com/2010/05/the-making-of-metropolis-actress-brigitte-helm/
http://www.independent.co.uk/news/obituaries/obituary-brigitte-helm-1337656.html