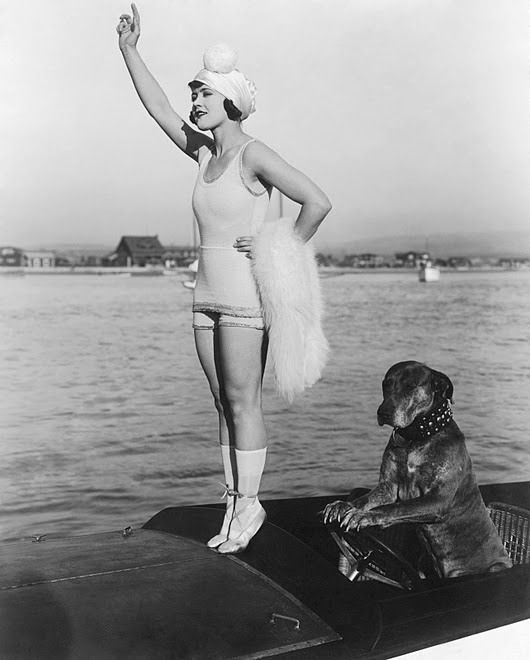 By Mitch Hemann
Since the earliest days of motion pictures, producers have used animals for their innate ability to add humor, action, and a whole lot of heart to their stories. Among these fuzzy performers, dogs have been some of the most memorable stars and have entertained audiences for more than a century. Names like Rin Tin Tin, Lassie, and Benji are remembered even today. But before any of those lovable pooches came along, there was Teddy.
At 42 inches tall and 145 pounds, Teddy the Great Dane got his break in 1916 in Mack Sennett's Keystone one-reeler, "The Nick of Time Baby", and the public quickly fell in love with him. Moviegoers adored his onscreen antics so much that his name would eventually appear in the title of another short, "Teddy At The Throttle" (1917), where he starred alongside Gloria Swanson and Bob Vernon.
In this delightful short, Teddy saves the day when he discovers Swanson tied to the railroad tracks. Teddy's athleticism is remarkably displayed as he jumps aboard the moving train and pulls the brake in the nick of time. There's even a marvelous bit in which Teddy pulls Vernon through the countryside on a bicycle with his tail. Films like "Teddy At The Throttle" and the many that followed would solidify him as a star and a critical darling.
America couldn't get enough of Teddy, and soon he was haming it up in magazines, public appearances, and even selling war bonds. Great Dane fever swept the nation. Interest in the breed grew, and the name "Teddy" became the most popular pet name of the time.
In 1918, Teddy was featured in a photo shoot for Photoplay Magazine. The article showed him taking care of a baby and pulling his buggy. Readers learned that Teddy earned $50 a week and paid $25 in taxes. This was in addition to the six soup bones, flea dips and examinations he received every week from his master, Joe Simkins. Teddy became known as the "Keystone Dog", and he continued to appear in many comedies alongside all of Sennett's biggest names, like Louise Fazenda, Marie Prevost and Chester Conklin.
To capitalize on Teddy's fame and satisfy public demand, Sennett released "Behind the Scenes at the Mack Sennett Studio". In this one-reeler, Teddy appears with a handful of other animal performers as well as with Sennett's famous "Bathing Beauties".
Sadly, our four legged friends are not made to outlive their two legged costars, and it wasn't long before Teddy's health began to decline. In 1925, the beloved dog passed away at the age of 14 in his master's home, but he flung the kennel door wide open for so many other animal actors to walk in his paw prints.
https://ladailymirror.com/2015/07/06/mary-mallory-hollywood-heights-teddy-the-dog-mack-sennetts-best-friend/