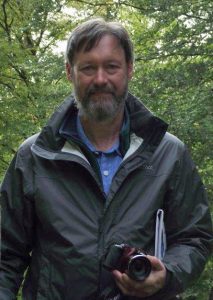 By Mitch Hemann
Jeff Gardner is an archaeologist living in Jacksonville's historic Springfield neighborhood. Recently retired, he's been able to pursue many passion projects. One such project is a book he's preparing on a long forgotten star of the silent era who lived right here in Jacksonville. Jeff will be presenting his research along with the Jacksonville Historical Society this Thursday at Old St. Andrew's Church. I recently had the chance to ask him a few questions about the fascinating life of Charles Weston.
Q: What inspired you to pursue historical research?
A: My education and training is in the field of archaeology, and I worked as a cultural resources management consultant for over 35 years. I've always been most interested in historic sites work. Combining historical records research with the archaeological remains that we found on sites across the Southeast and Midwest allowed me to provide more complete interpretations of site features and artifacts.
Q: What has been your most rewarding discovery?
A: Tough question! It seems like most times I've carefully examined historic documents, records, and maps there is something new and interesting to explore. Most recently, it's been discoveries about my own family, the Gardners. A few years ago, I discovered that my great grandfather and his older brother pursued the same line of work: plant husbandry and landscape design. Yes, the Gardners were gardeners! They also worked on the same Newport, Rhode Island estates for the late 19th century rich and famous: the Lorillards and the Vanderbilts. I presented this information to my family members at a reunion a couple of weeks ago, and even had a chance to share what I'd found with a distant cousin who continues the family business as owner of a garden store. Oh, and of course, I'm very excited about the fascinating information I've rediscovered on Charles H. Weston!
Q: How did you learn about Charles Weston?

A: A bit of serendipity, as is often the case. A Springfield neighbor was renovating a ca. 1912 apartment building and asked a fellow Springfield historian, Chris Farley, if she would provide some historical context. Chris looked up the address in a Jacksonville city directory and, among the residents listed for 1917 was "Charles Weston, actor." When she relayed this information to me, I was intrigued and began my research. You'll have to come to my presentation to hear more about Mr. Weston. But I will say that this Jacksonville native led an extremely exciting life, traveling across the country and around the world, pursuing his chosen profession.
Q: When researching your book, what did you personally find most interesting about his life?
A: Charles was from a middle-class family, growing up in Jacksonville's Brooklyn, LaVilla, and Springfield neighborhoods in the late 1800s. He left home early to follow his passion, and adapted to the opportunities presented to him. He recognized his own talents and honed these skills so that he was recognized as one of the best in his several fields of endeavor. The more I learn about him, the more I've come to respect his abilities and his drive to succeed. And until now, few were aware of his story.
Q: Now that you're retired, what have you been up to?
A: Mostly pursuing my interests in travel and historical research. My wife and I enjoy visiting new places; we've had many wonderful travel experiences, both nationally and internationally, and will continue to do so if we are able. I am a board member of the Springfield Improvement Association and Archives and I spend a great deal of time working to organize, manage, preserve, and share the history of my Springfield neighborhood. We have tremendous, previously untapped collections and our team of volunteers is working to make this information available to interested researchers. I also volunteer at the Jacksonville Historical Society, doing whatever they need me to do! They've allowed me to organize a couple of their collections (newspapers and maps), hopefully so that others can access them in their research.
More information on this exciting event can be found here:
http://www.jaxhistory.org/event/charles-weston/
Jeff Gardner spent most of his working life as a consulting archaeologist for a cultural resources management company. Since his retirement two years ago, he has been happily pursuing his favorite pastime, historical research. When not conducting genealogical research, he assists his Springfield neighbors in discovering the histories and previous residents of their historic homes. Jeff is a board member of the Springfield Improvement Association and Archives (SIAA) and a volunteer at the Jacksonville Historical Society.
Featured image: Eve of the Battle scene from The Battle of Waterloo, directed by Charles Weston, 1913