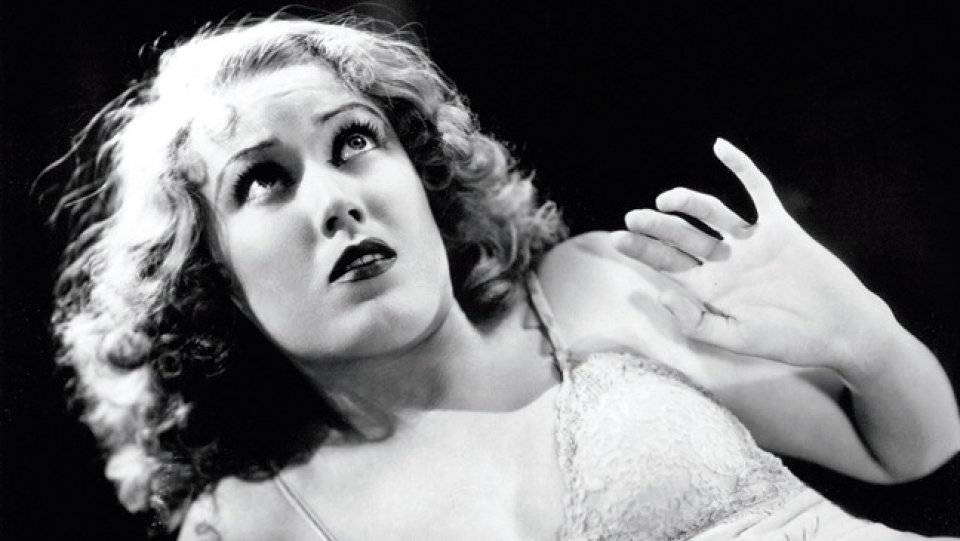 The beautiful Fay Wray began her career in silent films. Perhaps her most famous silent film is The Wedding March with Erick von Stroheim. However, even though she starred in over 75 films, she is remembered today as the unwilling object of the affections of Kong, her very unusual costar in the 1933 motion picture King Kong.
Over 50 years later Wray began her autobiography, On the Other Hand, with a letter to Kong. In it she writes that "you [Kong] have been the most dominant figure in my public life." Indeed, "[t]o speak of me is to think of you. To speak to me is often a prelude to questions about you."
She notes that there were beautiful moments in King Kong, and she describes two in particular. She writes "that we both appreciated the location given us for the scene when you held me in your left hand and pulled at my skirt with your right hand, as though taking petals from a flower." The other scene comprises the moments before Kong falls from the top of the Empire State Building: "You had put me down very carefully as though wanting me to be safe. You felt your chest where you had been shot." That scene brought a lump to Wray's throat.
Wray describes her meeting with Merian Cooper in his new office at RKO in which he introduced her to a film he was planning. He showed her sketches of jungle scenes and "an astonishing one: the figure of a giant ape climbing up the side of the newly created Empire State Building." When he told her that she was going to have the "tallest, darkest leading man in Hollywood," she hoped he was referring to Cary Grant with whom she had just worked in New York and who was coming to Hollywood. To her disappointment, Cooper meant the giant ape. But he assured her that he would not be real: "He'll be a small figure that will be created to look this big."
Filming began before a script for the movie was completed. Cooper was particularly concerned that the rear-projection process not only worked, but was shown to the "money people" in New York. This "test" became part of the film. Wray was placed in a tree alongside a huge screen where a battle scene between Kong and a tyrannosaurus was projected. Photographing the two together made it appear that Wray was actually seeing the fight. Wray, of course, could not actually see the figures on the screen and was dependent on Cooper's direction to know when to react and scream. She writes that she "would scream when Cooper said, 'Scream! Scream for your life, Fay!'" This scene took 22 hours to make.
No other scenes took that long, but the pattern of animation and special effects preparation and then shooting with live actors continued for about ten months. Because of the long duration of the making of King Kong, Wray (sans blonde wig) made four other films during 1933. One of these was The Most Dangerous Game with Joe McCrea, which was also produced by Cooper and made on some of the same sets as Kong.
Wray writes: "Of the five films I made that year, there was a subtle realization that Kong was probably the most important, but I'm convinced that was because Cooper was the most stimulating personality. When he approached me, he would beat himself on the chest in the manner of Kong!"
We can agree with Wray's assessment. There is no doubt that King Kong was the most important and has remained a classic to this day.
*Norman Studios and Jacksonville's Sun-Ray Cinema will screen the 1933 "King Kong" Tuesday, Sept. 25, 2018, 7pm. Click for details.