By Cassandra Geraghty @ayearofsilents
Noble Johnson was born Mark Johnson in Marshall, MI in 1881. While still young his family moved to Colorado Springs where his father was a well known horse trainer. While attending school there, Noble met and became friends with Lon Chaney and the two remained closed although never working together. He left school at fifteen to help his father train the horses.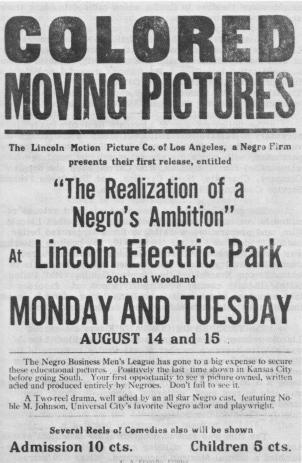 It is said that while accompanying his horses on a film set in 1915, an actor fell ill and Noble was tapped to replaced him in the role of a Native American. At 6'2' and 215 lbs, Noble was a striking figure. Although African-American, his ambiguously light complexion allowed him to play a wide variety of roles and ethnicities (including Native American, Arabian, Asian and other "exotic" types) as a character actor.
In his first two years of acting he was in nine films but in realizing that there was no proper representation of the black culture, particularly after the racist depictions in D.W. Griffith's "The Birth of the Nation" , he and fellow actor Clarence Brooks created the Lincoln Motion Picture Company. It was one of the earliest black owned studios with films specifically for the black audience. The first movie they produced was "The Realization of a Negro's Ambition". Unfortunately, the studio only ended up making five films before it closed in 1921. Noble was having trouble running the studio and simultaneously working as a feature actor for Universal Pictures. Universal gave him an ultimatum that he would have to choose between the two. Not wanting to give up his lucrative acting career, he left Lincoln and it folded shortly thereafter.
Noble never lacked work and he had parts in eighteen films between 1921 & 1924, including "The Four Horsemen of the Apocalypse" with Valentino "The Ten Commandments" and "The Thief of Baghdad" with Douglas Fairbanks.
Throughout his lengthy career in both silent and sound films, he was cast in a variety of roles from horror to westerns playing different ethnicities and creatures. He also performed with such actors as Spencer Tracey, Gary Cooper, Fay Wray, Bela Lugosi, Rita Hayworth, John Wayne, John Barrymore and on and on.
In the late 1920s through the 1930s Noble was in "Moby Dick", "The Mummy", "The Most Dangerous Game", "The Mysterious Dr. Fu Manchu", "Murders in the Rue Morgue" and "The Lives of a Bengal Lancer". Perhaps one of his most famous roles is as the Native Chief in "King Kong". Unfortunately in a good portion of these films he goes uncredited.
Noble continued to act steadily until 1950 with his last film being "North of the Great Divide" with Roy Rogers.
Noble passed away in 1978 at the age of 96 from natural causes. In his lifetime he performed in over 130 films with at least 59 of them silent, including the films he produced with own studio, the Lincoln Motion Picture Company.
Read more about Noble and George Johnson and the Lincoln Motion Picture Company in Norman Studios' Online Museum curated by author Barbara Tepa Lupack.