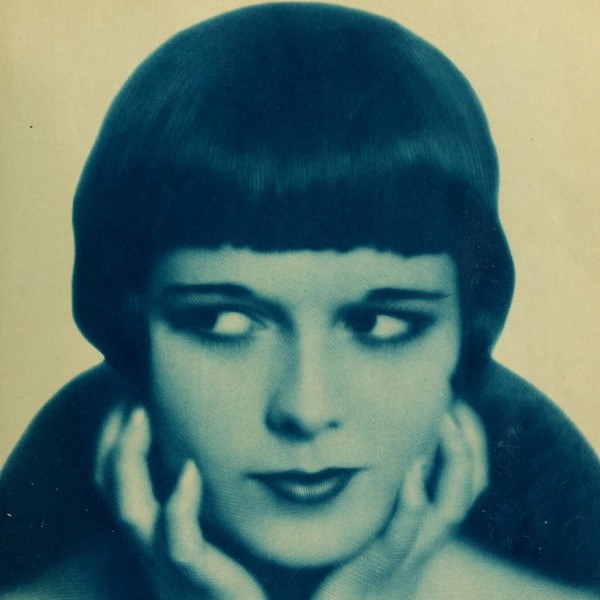 By Cassandra Geraghty @ayearofsilents
At first glance, Louise Brooks is better known for her bobbed hair, than for her contribution to Silent Film. However, although she had a moderately short career, her striking looks and natural acting ability made a lasting impression on fashion and film today.
Louise Brooks was born Mary Louise Brooks in Kansas in 1906 the second of four children. Her father was a lawyer most often buried under a pile of books and her mother, an eccentric pianist who preferred getting lost in music to child rearing. Left on her own, Louise was a fiercely independent child whose free spirit often butted heads with authority.
She began taking dance lessons at ten and, wanting her daughter to stand out, Louise's mother had her hair cut into a pageboy hairdo. Her new look did little to hide her mischievousness. Disagreements with her teacher lead to Louise being kicked out of dance school at the age of fifteen (a pattern that would follow her throughout life), and she left for New York City to attend the renowned Denishawn School of Dancing.
She grew her hair out, wearing it in long braids to look more professional, and worked hard to lose her Kansas drawl. Again, her headstrong and defiant personality rubbed her instructors the wrong way and she was eventually asked to leave.
Classmate Barbara Bennett (sister of film stars Constance and Joan Bennett) took pity on Louise and took her to a chic salon for a makeover. The stylist created the signature look, pairing fringe bangs and a razor-cut blunt bob. Louise brought a large sum of money she had acquired from her various suitors to a local clothing store and asked for help picking out fashionable attire. With her new hair and wardrobe, the Louise Brooks we all know and love was born.
She quickly got a job as a chorus girl in "George's White Scandals" and the "Ziegfeld Follies". An affair with producer Walter Wanger lead to a screen test and her first uncredited role in "The Street of Forgotten Men". Her unique and striking look gained her the attention of audiences and critics alike and at eighteen she was signed to Paramount.
Her next major role was "It's the Old Army Game" with comedian W.C. Fields, her costar from the Follies days. The filming took place in Ocala and Palm Beach, Florida. In her memoirs "Lulu in Hollywood" Louise reflected on the party atmosphere of the film shoot in Ocala and how the locals were so thrilled to have them in town that the liquor was flowing nonstop, Prohibition or not.
Ocala residents even got in on the action and were added as extras in a final chase scene. Other antics included W.C. Fields encountering a hungry bear in the woods, Louise learning haircare tips from local Seminole women bathing in the river and co-star Blanch Ring getting hit in the face with a bouquet of flowers thrown from a passing train.
During the filming, she and director Eddie Sutherland fell in love and they soon married and moved to Hollywood. With their busy schedules, they were rarely in the same place and Louise filed for divorce after two years together.
She filmed "The Canary Murder Case" in 1929, and then abruptly quit Paramount after an argument about her contract (which got her blacklisted from Hollywood). Seizing an opportunity, she left for Germany to film "Pandora's Box" with G.W. Pabst. Although it received mixed reviews, her performances in that and her following picture, "Diary of a Lost Girl" have solidified Louise Brooks' name in film history. Her natural acting technique ruffled feathers at the time but has impressed modern critics.
Louise returned to New York in 1930 without the fame she had experienced in Europe and the only work she could find were small parts in a handful of forgettable films. She essentially ended her career by turning down the last great role she would ever be offered in "Public Enemy". It went to Jean Harlow and made her a star while Louise faded in the background.
Louise spent her later years in Rochester, NY after being discovered and taken in by a film historian from the George Eastman House. There she wrote her memoirs and vignettes on life in Hollywood until she passed away in 1985 at the age of 78.
Louise Brooks was a powerful and independent force ahead of her time. Her modern views on sexuality and headstrong attitude alienated her from the Hollywood elite but those very qualities make her a style icon and a film legend today.