He's known as the American Songster – with good reason. Boasting an impressive repertoire that covers a century of American folklore, ballads and traditional tunes, Dom Flemons is using his creative talents to help preserve our nation's musical history and introduce it to new generations. And he draws much of his inspiration from silent film, including the legendary Bill Pickett, star of Richard Norman's The Bull-Dogger and The Crimson Skull.
"Part of my imagery as a musician comes from the silent film era," Flemons said, noting that he first became enamored with the genre when he saw the 1992 film, Chaplin, starring Robert Downey, Jr. as silent comedy icon Charlie Chaplin. "I kept an eye out for different reissues of Chaplin films and noticed that some had real soundtracks while others used what sounded like stock music. It interested me that the tone and the vibe of the while film changes when you add a different soundtrack. That made me start thinking about how easy it is to use music to manipulate a visual to fit a different feel or vibe."
Eventually, Flemons's interest in silent film would intersect with his love for America's Old West, its storied characters and its music. And as an African American who has built an extraordinary career making and playing music widely considered atypical of black culture, he found something of a kindred spirit in Bill Pickett.
Texas-born in 1870 with African-American and Cherokee ancestry, Pickett gained fame as a rodeo performer and unlikely star of the Miller Brothers 101 Ranch Wild West Show, working alongside the likes of Buffalo Bill, Will Rogers, Tom Mix, Bee Ho Gray, and Zach and Lucille Mulhall. Performing under the stage name "The Dusky Demon", Pickett caught the attention of Richard Norman and, by way of his on-screen turn in 1921's The Bull-Dogger, presumably became the first black Western actor and stunt performer.
"Recently, I decided to embrace an album on black cowboys, a subject I've been studying for the better part of a decade," said Flemons, co-founder of the Grammy Award-winning Carolina Chocolate Drops. "I had found a book called The Negro Cowboys, published in the mid-1960s and one of the big takeaways was that one in four cowboys that settled the West were African Americans."
His research turned up a treasure trove of written material filled with little-known facts about African American and Native American contributions to the nation's music – and much of Flemons's research debunks common assumptions. For instance, Maybelle Carter reportedly learned "Wabash Cannonball" from a black gentleman who played guitar masterfully despite a hand deformity; Carl Perkins learned guitar from black sharecroppers with whom he worked in the fields; and Arnold Schultz, a black itinerate worker who worked fruit orchards from New Orleans to Kentucky, is credited with teaching Ike Everly and Chet Atkins a particular style of finger picking that was part of the black music community in Kentucky, and Bill Monroe early blues fiddle licks.
"Roy Acuff talked about the structure of race and hillbilly records and how they disrupted the cultural interchange that had always gone on," explains Flemons, who is nominated for two Emmys for his recent PBS special, Songcraft Presents: Dom Flemons. "When the music was commercialized, that's when they really started separating because audiences wanted more structured genres. It messed up the embrace of a multicultural music culture that had been there. An instant contradictory lies between what was socially acceptable and what was musically acceptable."
Yet, despite the written history, Flemons' research turned up "no musical albums that embraced and brought awareness of black cowboys." So, he set out to create one himself.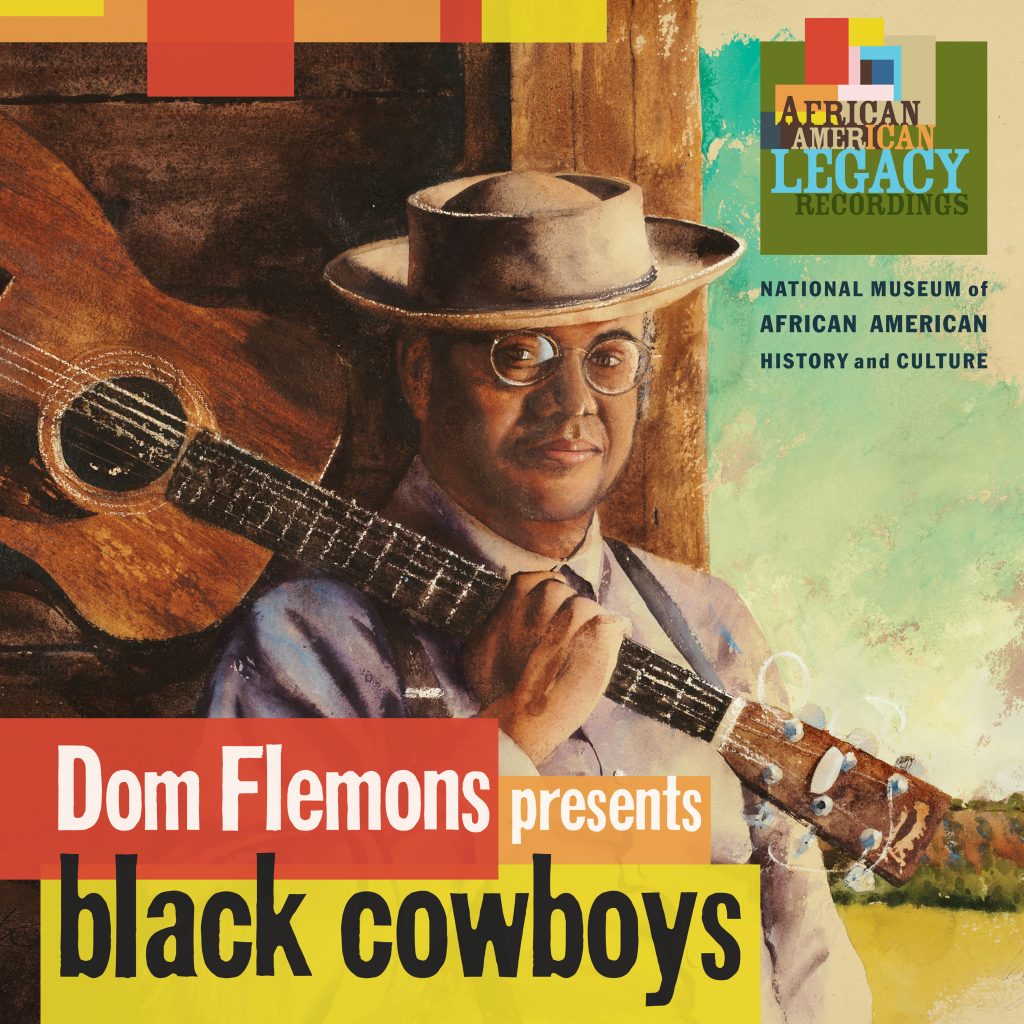 The result is Dom Flemons Presents Black Cowboys, an 18-track album that sheds a light on the music, culture and the complex history of the golden era of the Wild West. A favorite track: One Dollar Bill, inspired in part by Pickett.
"In this single volume of music, the first of its kind, Dom Flemons explores and reanalyzes this important part of our American identity," Flemons's website reads. "The songs and poems featured on the album are meant to take the listener on an illuminating journey from the trails to the rails of the old west. This is a century old story that follows the footsteps of the thousands of African American pioneers that helped build the United States of America."
The album is the latest release in the Smithsonian Folkways music label's African American Legacy Recordings, a project with the National Museum of African American History and Culture. Accessible via links on Flemons' website, the album is available on iTunes, Spotify, Amazon, Bandcamp and Tidal.
TAKE A LISTEN:
"One Dollar Bill"
"Tyin' Knots in the Devil's Tail"
"Black Woman"