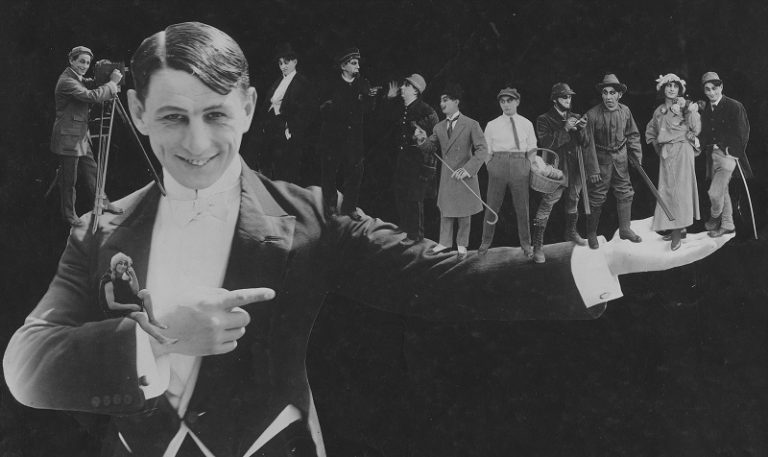 by Christina Kimble
One clown to rule them all. Marcel Fernandez Perez is a silent film underdog and first generation silent film comedian who began his career in Paris in 1900. But how could an international favorite have his work largely unnoticed until the 21st century? The scarcity of his work today is just one part.
Perez was born on January 29, 1884 in Madrid, Spain and found early work as an acrobatic Spanish circus clown before moving to Italy in 1910 to work with the Ambrosio company as Robinet. There, he created a popular five-year series of humorous misadventures as a scatter-brained clumsy man, and participated in short films where his acrobatic skills are apparent in stunts. In the 1910 showing of Tweedle Dum Wants to be a Jockey, Perez is knocked into an unconscious state. While dreaming that he's in a fighting ring, he's seen being somersaulted and whirled around by his opponent. Later in the film he's tossed off a racing horse several times, including once into a mud puddle.
The approaching First World War drove him to find acting work in the United States, where he traveled in a gypsy-like way through early screen comedy and frequently changed his stage name. Marcel Perez was billed as Marcel Fabre, Robinet, Tweedle Dum, Tweede-Dan and Tweedy, which were a combination of character and given names. And the stage names didn't stop Perez from sharing the spirit of them. After marrying actress Dorothy Earle, the couple performed alongside each other in a comedy series called Tweedle Dee and Tweedle Dum, wherein Dorothy was the Dee to his Dum.
Marcel Perez also found work in several other locations within the United States. Eight of his comedies were filmed in San Antonio, Texas for the Jester Comedy Company. Other major locations included New York and Los Angeles, California. Perez even acted in a series of Bungles comedies in 1916 that were produced by Jacksonville, Florida's Vim Comedy Company.
Tragedy did strike in Perez's life. His leg had to be amputated in 1923 due to cancer, but Perez bounced back and satisfied the comedy bug by shifting to work in writing in directing.
Flourishing until his death on February 8, 1928, Perez linked European and American silent film comedy by directing, writing and acting in more than 200 short films cementing his first generation screen clown legacy.
Featured image: Scene from Some Hero, directed by Marcel Perez, 1916.