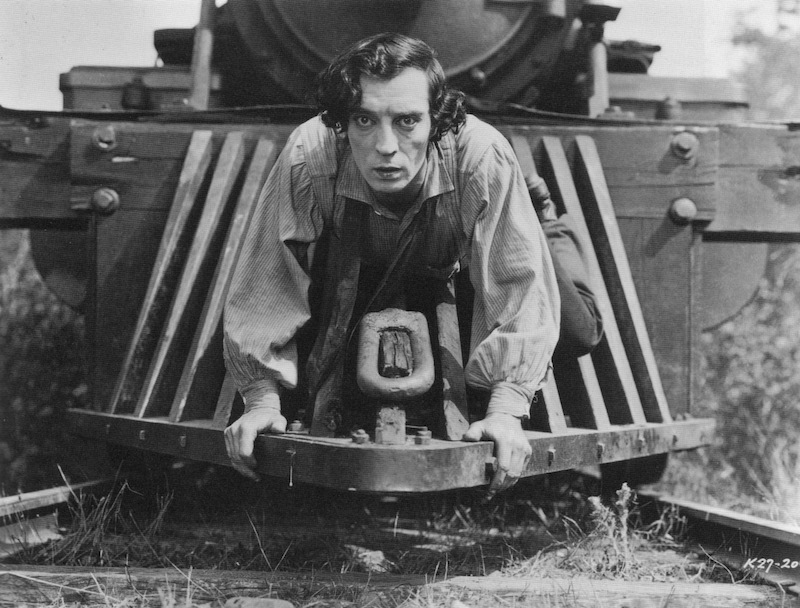 by Christina Kimble
Some people have two great loves- their wife and their car; their husband and their spa days; their guitar and their friends. For character Johnnie Gray (Buster Keaton), who plays a train engineer in the 1926 film The General, love was being with his fiancée Annabelle Lee and his locomotive, The General. But one big separator threatens to end that love – the American Civil War breaks out.
Johnnie wants to be good by signing up with the Confederate Army, but is rejected because he is deemed too valuable. His fiancée, in turn, wants nothing to do with a man without a uniform and shuns him. Yet when Annabelle's father is injured, it's Johnnie to the rescue, allowing Annabelle to hitch a ride on The General to visit her father. But during a meal break, Union spies led by Captain Anderson steal the train. Johnnie pursues the train and it's this point in the movie where art begins to imitate real life.
The General was based on a historic raid led by civilian scout James J. Andrews and known today as the Great Locomotive Chase. Andrews' love was of country and freedom. The purpose of the raid was to damage the vital Western & Atlantic Railroad from Atlanta, Georgia to Chattanooga, Tennessee in order to stop Confederates from readily exchanged support and supplies.
Water, rest and meal stops, in absence of the existence of dining cars, were common back then. Andrews, along with 22 volunteer Union soldiers, seized a break in a train schedule and stole the General from Confederate Captain William Fuller in Big Shanty, Georgia.
Between 15 and 20 miles per hour was the top speed, so a pursuit was soon in place. Some telegraph wires had been cut to aid Union efforts, but Andrews and his troop lacked railway track tools and demolition equipment to destroy enough track, bridges, track switches and more telegraph wires behind them.
As a result of the slow progress of destruction behind them, Andrews and his men played a deadly game of cat and mouse, as Confederate forces slowly gained on them. The Confederates had an upper hand too when they rerouted trains from Chattanooga in the North, toward the South, fearing an attack from the Union.
Andrews and his men were able to continue traveling North only because they lied, saying they were carrying a special shipment of ammunition to the Confederates in Chattanooga, who were prepping for an impending battle. Then, a train called the Texas, being rerouted from the North, was taken over by William Fuller, which closed the gap when, just 18 miles from Chattanooga, the General ran out of steam- it's fuel completely tapped. Scatter. That's what Andrews soldiers and he did.
Unfortunately, they were captured in roughly two weeks, with some, Andrews among them, being executed by hanging after trial, a few others escaping to the North to tell their tale, and the remaining exchanged for Confederate prisoners of war in March of 1863.
Edwin M. Stanton, Secretary of War, awarded the soldiers in this raid the first Medals of Honor, excepting Andrews, who was a civilian.
Not all is fair in love and war, but redemption was given. Although the 1926 film is from the perspective of a young Johnnie, who is ultimately rewarded for his heroic efforts that helped the Confederate army, it did help preserve an important battle in U.S. History by inspiring people to look beyond the damsel in distress, and toward the inspiration behind the script.