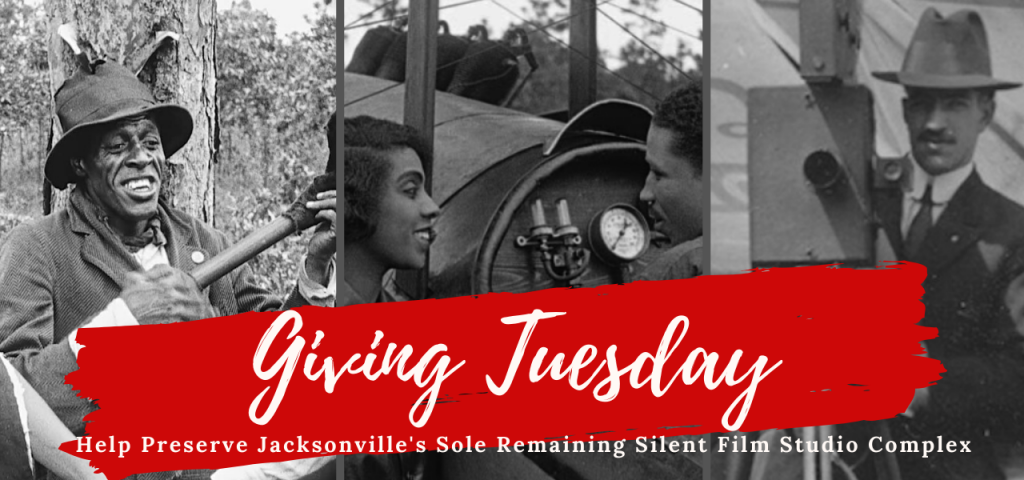 Each year, on a single day, Americans donate millions of dollars to worthy causes nationwide. Created in 2012, GivingTuesday is a global generosity movement unleashing the power of people and organizations to transform their communities and the world on December 3, 2019 and every day.
This Giving Tuesday, we offer three reasons to consider donating to the Norman Studios:
You'll help preserve a unique civil rights and film industry history: Jacksonville has a unique history as the Winter Film Capital of the World during the early part of the 20th century and we aim to help preserve the story of the city's sole remaining studio from the era. Some of the earliest films starring all African-American casts were shot right here in the River City – a civil rights accomplishment that we can all take pride in. Plus, according to the University of Delaware's Complete Communities initiative, historic preservation strengthens neighborhoods, complements place-based economic development, encourages local economic growth and conserves natural resources.
You'll help create a place the whole community can embrace: The Norman Studios Silent Film Museum, a 501c3 nonprofit organization, aims to restore and reopen Mr. Norman's five-building complex as a world-class film learning, tourism and community center that will attract cinephiles from around the globe and offer a unique space for events such as weddings, family reunions, corporate retreats and student field trips.
You'll help develop the next generation of filmmakers: Among the Norman Studios's goals is to help educate and encourage new generations of filmmakers by offering film workshops, lectures, screenings and summer camps.
TOP PRIORITIES…
Purchase of the one outstanding Norman complex building currently owned by Circle of Faith Ministries so that we can bring the entire complex back under singular management.
Planning and implementation of the first-phase restoration of the main building (which housed Mr. Norman's office and film processing operation) with help from a $1 million Community Improvement Plan set-aside recently approved by the Jacksonville City Council.
Will you join us? Please consider the Norman Studios in your Giving Tuesday plans.
CLICK TO DONATE