By Barbara Wingo
On April 14 and 15 Barbara Wingo of Norman Studios gave presentations at the Florida Chautauqua Assembly on "The Movie Decade and Norman Studios." The "movie decade" refers to the theme of the assembly, which was "A Journey into the 1920s: 100 Years Later." The importance of the motion picture industry in the United States and some of its leading features of that industry in the 1920s were discussed. The history of Norman Studios and its films (primarily produced in the 1920s) was presented along with the regeneration of the Studios at the present time.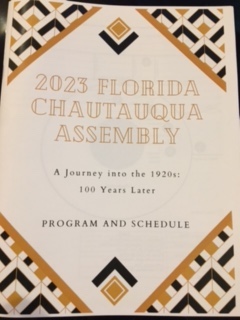 In 1884 the Florida Chautauqua Association was created and located in DeFuniak Springs, Florida, as a southern branch of the Chautauqua Assembly in New York. It was in existence in 1885-1922 and 1924-1927. From small beginnings the attendance rose to the thousands. The Chautauqua movement emphasized education and entertainment and featured leading politicians, lecturers, and entertainers of the day.
In 1993 the Chautauqua idea was resurrected in DeFuniak Springs, and in 1996 organizers officially brought back the Florida Chautauqua Assembly. Like the original programs, the assemblies include history, health, art, and current events along with entertainment. Norman Studios was honored to be asked to participate in the 2023 Assembly. And a good time was had by all. A special bonus was that one of the audience members was an alumna of the Gloria Norman Dance Studio!