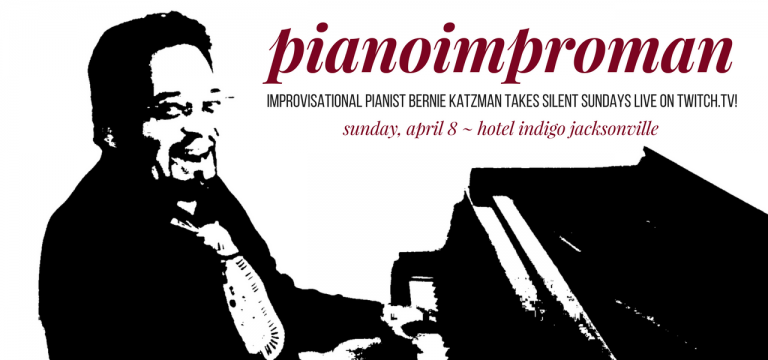 Fans of the Norman Studios' Silent Sundays film series are in for a musical treat. Our next screening, featuring Norma Talmadge in 1916's "The Social Secretary," will also feature live musical accompaniment by renowned pianist Bernie Katzman. And, for the first time, we'll go live with Katzman's performance streamed on Twitch.TV
Known as the "PianoImproMan", Katzman began the art of improvisation at age three and was studying formally by age four. He studied at the renowned Juilliard School of Music Prep Division at age 10 and attended the High School of Music and Art in Manhattan before earning his Bachelors and Masters degrees in music performance at Juilliard. His professional music career began with a performance at the opening of Lincoln Center as a tenor in a performance of Beethoven's 9th under the baton of the iconic Leonard Bernstein. He has since performed concerts throughout the NYC metropolitan area and was most notably recognized for his concert at Carnegie Recital Hall, which consisted of works by Bach, Beethoven, Chopin and Liszt as well as his own freestyle improvisations.
Katzman has an extensive career in non-classical music as well, including Jazz performance, being a show-band and club date leader in the NYC metropolitan area and studio recording work. He also has composed and produced many improvisational CDs ranging from New Age Classical, Yiddish and Hebrew melodies, favorite Christmas carols and original songs including "An American Prayer", a production dedicated to victims of 9/11 and their families.
Today, Katzman is best known as one of the live streaming social network Twitch.TV's most beloved streamers. One follower asked, "Is this the new Bob Ross of Twitch?" referencing the famed artist and creator of PBS's wildly successful "The Joy of Painting."
During live streamed performances that have racked up millions of views, Katzman takes requests from fans worldwide, often playing two pianos at once. Favorite moments, however, are those when he suddenly interrupts a resounding version of some musical classic to crack a "that's what she said" joke or bust out the infamous John Cena WWE intro.
Katzman and his wife Mindy have been running their livestream music show at www.twitch.tv/pianoimproman since 2015. Log on and tune in at 2pm EST Tuesdays-Fridays and 10:00am EST on Saturdays. You can also find him on YouTube.