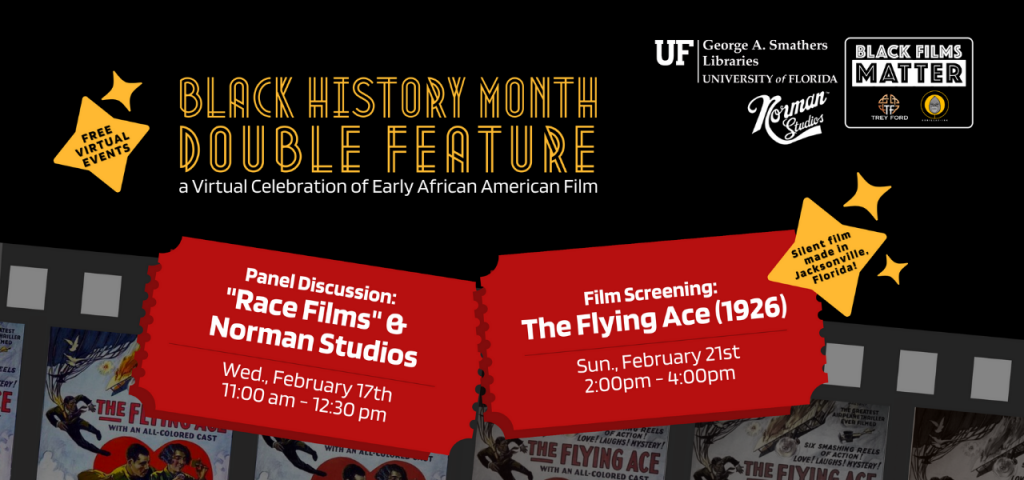 For Immediate Release
Gainesville, FL
February 5, 2021
George A. Smathers Libraries announces a Black History Month Double Feature: A Virtual Celebration of Early African American Film. We will present two free virtual events. Both events are open to the public, and registration is required.
A Panel presentation: "Race Films" & Norman Studios
Wednesday, February 17, 2021 from 11:00-12:30 pm
Register for this event
The panel will be moderated by Barbara Wingo of Norman Studios, and will feature presentations by panelists Mark Reid, Professor of English, University of Florida College of Liberal Arts and Sciences; Barbara Tepa Lupack, former Dean and professor of English at SUNY/Rochester; and Terri Francis, Director of the Black Film Center/Archive at Indiana University. The presentations will be followed by a brief question and answer period.
A film screening: The Flying Ace (1926)
Sunday February 21, 2021 from 2-4:00 pm
Register for this event
The Flying Ace (1926) is a silent film made in Jacksonville, FL and inspired by the life of stunt pilot Bessie Coleman. Barbara Wingo of Norman Studios will introduce the film and presentation. The screening will be followed by a brief question and answer period.
About Norman Studios:
Founded in 1916 as Eagle Film City and purchased by Richard E. Norman in the 1920s, Norman Studios was among the nation's first to produce "race films" starring African American characters in positive, non-stereotypical roles. Norman's five-building complex, now a National Historic Landmark, survives in Jacksonville's Old Arlington neighborhood. The mission of our 501(c)3 organization is to preserve, present and promote the history of silent motion pictures and race films through the reunification and restoration of the Norman Studios complex as a museum, education, film, and community center. Learn more at normanstudios.org.
These events are sponsored by the George A. Smathers Libraries, and funding provided by the James S. Haskins Endowment. Co-sponsors include Norman Studios and Black Films Matter.
To request help participating in our events, please contact Stephanie Birch at stephanie.birch@ufl.edu or Twanna Hodge at twanna.hodge@ufl.edu. Advance notice is necessary to arrange for some accessibility needs.
Help us spread the word. Download a PDF flyer here.