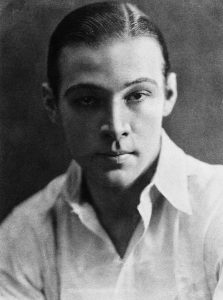 By Mitch Hemann
By the 1920s, Hollywood had seen many stars. Funny men like Charlie Chaplin and Buster Keaton made us laugh, starlets like Mary Pickford and Lillian Gish drove men crazy, and debonair gentlemen like Douglas Fairbanks made women swoon. But nobody was prepared for Valentino.
Born on May 6, 1895 in Castellaneta Italy, Rodolfo Alfonso Rafaello Pierre Filibert Guglielmi di Valentina D'Antonguolla came to America in 1913. He was penniless, and lived on the streets of New York City. He eventually got a job as a taxi dancer at a cabaret called Maxim's, where he'd spend his nights dancing with wealthy women for money. During this time, he met Blanca de Saulles, an heiress in an unhappy marriage who would end up shooting her husband to death. Valentino, who had already been tangled up in legal trouble with the couple, decided it was best to leave New York and head to California.
Valentino continued to work as a dance instructor on the West Coast and had some small parts in films as well. It is said that he would show up at auditions driving fancy automobiles he'd borrow from wealthy clients. He eventually found himself in Florida, where he shot parts of "Stolen Moments" (1920) for the American Cinema Corporation in Saint Augustine alongside Marguerite Namara. During production, Valentino learned that Metro Pictures were planning an adaptation of the novel The Four Horsemen of the Apocalypse. Interested, he made his way back to New York and was cast as Julio Desnoyers. Released in 1921, the film was a box office smash and would thrust Valentino's name into the spotlight. That same year, he would star in the wildly successful, "The Sheik". Valentino became known as The Latin Lover, an image and a burden he found unbearable. Women adored him, and men (known as Vaselinos) wanted to be him. But not everyone was impressed.
In 1922, the writer Dick Dorgan published a piece in Photoplay magazine, stating, "the Sheik is a bum Arab, that he is really an Englishman whose mother was a wop or something like that." Valentino did not take the insult lightly, and he swore that he would kill the writer if he saw him. But that didn't seem to deter Dorgan. He went on to publish another piece entitled, "A Song of Hate". In it, Dorgan would refer to Valentino's long eyelashes, earrings and "patent leather hair".
Dorgan wasn't the only man who took issue with Valentino. Photoplay would later publish another piece by Herbert Howe. He writes, "The movie boys haven't been the same, they're all racing around wearing spit curls, bobbed hair and silk panties.… This can't keep up. The public can stand just so many ruffles and no more." Valentino began to despise his image and would fight tooth and nail against it. Still, the actor's masculinity was constantly called into question.
Things finally reached a boiling point in 1926, when the Chicago Tribune ran an anonymous editorial entitled, "Pink Powder Puffs". The author railed against a powder dispenser that had been installed in a public men's room and blamed Valentino and his influence on society. He wrote, "A powder vending machine! In a men's washroom! Homo Americanus! Why didn't someone quietly drown Rudolph Guglielmo , alias Valentino, years ago?… Do women like the type of "man" who pats pink powder on his face in a public washroom and arranges his coiffure in a public elevator?… Hollywood is the national school of masculinity. Rudy, the beautiful gardener's boy, is the prototype of the American male."
Valentino was furious, and he sent a challenge to a competing Chicago newspaper: "To the man (?) who wrote the editorial headed 'Pink Powder Puffs' in Sunday's Tribune, I call you in return, a contemptible coward and to prove which of us is a better man, challenge you to a personal test." He then goes on to challenge him to a boxing match. The challenge was never accepted, but Valentino still received boxing lessons from his friend Jack Dempsey and, after all the tough talk, a sportswriter named Frank O'Neil decided to take Valentino on. The match took place on the roof of the Ambassador Hotel. O'Neil only got one punch before Valentino quickly took him down. But, always the gentlemen, he immediately helped him up and apologized. The public ate it up.
But Valentino wasn't satisfied and he continued to take the insults to heart. His friend H.L. Mencken would later write about how much it haunted Valentino: ""Here was a young man who was living daily the dream of millions of other young men. Here was one who was catnip to women. Here was one who had wealth and fame. And here was one who was very unhappy."
Later that year, Valentino starred in "The Son of the Sheik". The film was another hit and Valentino was particularly pleased with the press he received that repeatedly referred to his manliness. One reviewer wrote that: "the sheik has an arm that would do credit to a pugilist and a most careless way of hurling himself off balconies and on and off horses. One leap from a balcony to a swinging chandelier is as good as anything Douglas Fairbanks ever did."
Sadly, Valentino collapsed two weeks later at the Ambassador Hotel. He was rushed to the hospital where he underwent surgery for a ruptured appendix. It was a routine procedure, but he then developed pleuritis in his left lung and his condition worsened. On August 23, Rudolph Valentino slipped into a coma. Hours later, at the age of 31, he was gone.
More than 100,000 people gathered outside the funeral home where Valentino lay. The New York Police Department had to be called in to control the mob. His body was then taken by train to the West Coast and he was laid to rest in Hollywood.
For many years after, on the anniversary of his death, a veiled woman in black could be found at Valentino's Hollywood tomb. She would place twelve red roses and one white one on his grave. It was later proven to be another publicity stunt, but that hasn't stopped countless other women in black who have continued the tradition.
http://www.smithsonianmag.com/history/the-latin-lover-and-his-enemies-119968944/